Three-Quarters of People with Hepatitis C were Born between 1945 and 1965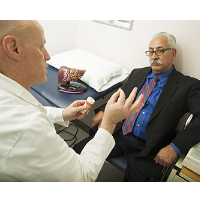 Doctor explains a Hepatitis C drug to his patient (photo: UC Davis Health System)
Although some of the focus on Hepatitis C is on its effect on younger patients, three-quarters of those afflicted with the disease are baby boomers.
Americans born from 1945 to 1965 are five times more likely to have Hepatitis C than other adults, according to the Centers for Disease Control and Prevention (CDC).
About 2.25 million of the 3 million with Hep C are in this age group.
Many of the baby boomers who contracted the disease did so from blood transfusions administered before testing for Hep C became standard in 1992, while others were infected via intravenous drug use.
The CDC recommends that all Americans in this age group be tested for the disease. Hepatitis C can lay dormant for years before symptoms appear, but even if a patient is asymptomatic, he or she can still spread it via blood or even sexual contact.
Hepatitis C can cause liver damage and liver failure and is a leading cause of liver cancer and the No. 1 cause of liver transplants.
Drug treatments such as Harvoni, Viekira Pak, Olysio and Sovaldi are available and effective, but are very expensive. A course of treatment costs $60,000 to $190,000, depending on its length, and many insurance companies won't cover it until a patient is nearing liver failure.
- Steve Straehley, Noel Brinkerhoff
To Learn More:
At the Crossroads: The Rise of Hepatitis C and the Fight to Stop It (audio) (by Kristin Espeland Gourlay)
Know More Hepatitis (Centers for Disease Control and Prevention)
Hepatitis C FAQs for the Public (Centers for Disease Control and Prevention)
Cost in the Way of a Cure (by Halle Stockton, PublicSource)