The Fun Side of Global Warming: Yachties Plan Race Through Arctic Ocean from New York to British Columbia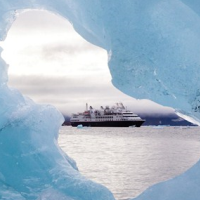 (photo: Silversea)
Who says there's no upside to global warming? It could turn out to be a boon to sailors who hope to stage a yacht race through the Arctic Ocean's Northwest Passage.
Organizers of Sailing the Arctic Race are hoping to pull off their "extreme" inaugural event in the summer/fall of 2017. The 7,700-mile race will start in New York, go up and around Canada through the fabled Northwest Passage and conclude in Victoria, British Columbia. The entry fee is $50,000 and the total cost per team will be $2.5 million.
Some experts wonder if the Arctic Ocean will really be free enough of ice in just two years to allow for the unusual competition. "Although end-of-summer ice conditions in the Amundsen route of the Northwest Passage (the route they would take) have become milder over the past decade, ice conditions have been, and will remain, highly variable," Mark Serreze, head of the National Snow and Ice Data Center in Colorado, told The Washington Post in an email. "At the end of summer 2017 the route might be more-or-less completely ice free. It may be choked with ice. A great deal will depend on the summer weather patterns."
A handful of pleasure boats do sail the Northwest Passage each year. "From the 1980s on, voyages through the Passage have become an annual event," according to the Department of Environment and Natural Resources of Canada's Northwest Territories. "The number of transits increased from four per year in the 1980s to 20-30 per year in 2009-2013."
The Northwest Passage was first successfully sailed by explorer Roald Amundsen in 1903-1906.
-Noel Brinkerhoff
To Learn More:
The Arctic Has Lost So Much Ice That Now People Want To Race Yachts Through It
(by Chris Mooney, Washington Post)
Northwest Passage Yacht Race Promises High Adventure (and High Costs) (by Kate Kyle, CBC News)
About the Race (Sailing the Arctic Race)
Russia's First Shipment of Arctic Oil to Europe Arrives in Netherlands (by Noel Brinkerhoff, AllGov)
A Disturbing Success: The First Commercial Trans-Arctic Passage (by Noel Brinkerhoff, AllGov)