Supreme Court Justices Ginsburg and Scalia in Rare Dissent Agreement
Thursday, October 16, 2014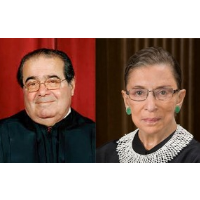 Justices Antonin Scalia and Ruth Bader Ginsburg
They are the legal equivalent of the Odd Couple on the U.S. Supreme Court: Liberal Ruth Bader Ginsburg and conservative Antonin Scalia. Rarely do these justices agree on much, but recently they found themselves on the same side in criticizing a decision by the court's majority.
Three gang members convicted of selling small amounts of cocaine appealed their prison sentences. They argued their Sixth Amendment rights were violated by the sentencing judge, who took into account the charge of conspiracy even though the jury in the case acquitted the men on this count.
Joseph Jones, Desmond Thurston and Antwaun Ball appealed their sentencing to the federal appeals court in the District of Columbia, which upheld the judge's decision.
They then petitioned the Supreme Court to hear their case. But the petition was rejected, which didn't sit well with Scalia and Ginsburg, who were joined by Justice Clarence Thomas in their dissent.
"The Sixth Amendment, together with the Fifth Amendment's due process clause, 'requires that each element of a crime' be either admitted by the defendant, or 'proved to the jury beyond a reasonable doubt,'" Scalia wrote in dissent. "We have held that a substantively unreasonable penalty is illegal and must be set aside. It unavoidably follows that any fact necessary to prevent a sentence from being substantively unreasonable—thereby exposing the defendant to the longer sentence—is an element that must be either admitted by the defendant or found by the jury. It may not be found by a judge."
The justices have said in previous years that they were waiting for a case such as this one to rule definitively on the issue of whether judges may use their own fact-finding to impose more severe sentences as long as they're within guidelines. According to Scalia, this was exactly the type of case the court wanted to use in a ruling, and yet six justices passed on the opportunity to do so.
Just the written dissent from the court's denial of the defendants' appeal is unusual. Most such rulings are made without comment from either side.
-Noel Brinkerhoff
To Learn More:
SCOTUS Passed on Ideal Case, Justices Complain (by Barbara Leonard, Courthouse News Service)
Joseph Jones, Desmond Thurston, and Antwuan Ball v. United States (U.S. Supreme Court) (pdf)
Left-Right Coalition on Supreme Court Defends Right to Challenge Witnesses (by Noel Brinkerhoff and David Wallechinsky, AllGov)
Scalia Sides with Liberals on State Bank Regulation (by Noel Brinkerhoff, AllGov)