State Dept. Forbids Diplomats from Pouring Ice on their Heads
Saturday, August 23, 2014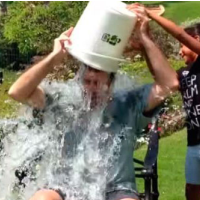 U.S. Ambassador to Israel Daniel Shapiro
American diplomats around the world can put away the ice cubes and buckets, for there will be no joining of the recent trend of celebrities and public figures dousing themselves in the name of charity.
The State Department has decided that no U.S. diplomat will be allowed to participate in the "Ice Bucket Challenge," according to the Associated Press.
The chain letter-like challenge, which has pulled in former President George W. Bush, pop stars, Hollywood actors and other prominent figures, involves getting soaked with ice and water in an effort to raise money and awareness for Lou Gehrig's disease, officially known as ALS, or amyotrophic lateral sclerosis.
But State officials determined that any ambassador or high-profile Foreign Service officer who participated would violate federal ethics rules preventing officials from using public office for private gain, regardless of the cause. It's not that the department doesn't support disease prevention and public health, officials added, telling the AP that overcoming HIV/AIDS, malaria, tuberculosis, smallpox and other health disorders are high priorities of the Obama administration.
One ambassador snuck in under the wire before the State Department made its decision. Daniel Shapiro, the U.S. envoy to Israel, took the challenge and was drenched. He then challenged U.N. Ambassador Samantha Power, but she didn't get a chance to participate before State sent its cable to U.S. missions.
As of August 22, more than $53 million had been donated toward ALS research as a result of the Ice Bucket Challenge, according to the ALS Association.
-Noel Brinkerhoff, Steve Straehley
To Learn More:
U.S. Diplomats Barred from Ice Bucket Challenge (by Matthew Lee, Associated Press)
'Ice Bucket Challenge' Donations for ALS Research Top $41 Million (by Emily Steel, New York Times)