Spam Emails Drop below 50% for First Time in 12 Years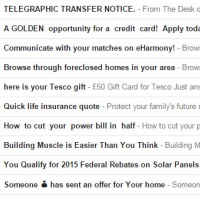 (graphic: Steve Straehley, AllGov)
If your email provider has a good spam blocker, you might not realize how many of the messages sent over the Internet can be classified as spam. There's good news though—spam now accounts for less than half of email.
Internet security company Symantec issued a report (pdf) saying that for the first time since 2003, spam is under the 50% mark. Other online attacks, such as phishing attacks and email-based malware, have also dropped.
Some of the reduction may be a result of stronger enforcement action. The Federal Trade Commission put one spammer who accounted for 80% of the messages about diet pills out of business.
All this doesn't mean it's safe to respond to that message from the Nigerian prince or that you're going to win a free gift card. And hackers have other means of attack that are on the rise.
There were 57.6 million new malware variants created in June. Another form of attack, ransomware, has also increased. Ransomware is a program that infects a computer and makes it useless unless the owner pays the hacker to remove the virus. Even reformatting the computer isn't always a solution to a ransomware attack.
"This increase in activity lends more evidence to the idea that, with the continued drops in email-based malicious activity, attackers are simply moving to other areas of the threat landscape," Symantec's Ben Nahorney wrote.
-Steve Straehley
To Learn More:
Spam Falls to Lowest Level in a Decade, Symantec Says (by Jef Cozza, Top Tech News)
Spam Email Levels at 12-Year Low (BBC News)
Symantec Intelligence Report: June 2015 (pdf) (by Ben Nahorney, Symantec)