Skulls of Unidentified Corpses Given Sculpted Faces in Search for Their Identities … and Their Killers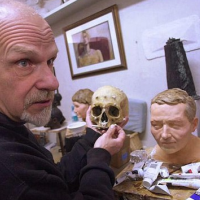 Late forensic sculptor Frank Bender displays human skull and its sculpted face (AP photo)
Students at the New York Academy of Art are helping law enforcement solve cold case murders by reconstructing the faces of victims using clay and casts of their skulls.
The 11 unsolved murders required considerable work on the part of sculptors to recreate what the people might have looked like before their deaths. All of the cases "had all met ugly deaths and were found as skeletons in desolate places across New York City — train tracks, wooded areas, in a basement," Corey Kilgannon wrote at The New York Times. In some cases, the bodies were dismembered and the skulls crushed.
The students spent a week working on the skulls as part of workshop organized between the school and the city medical examiner's office. Although the process of attempting to re-create a person's face from their skull is not new, this is believed to be the first time art students had been put on the case.
This work is a last resort for investigators. "This is like the end of the road," Bradley Adams, the director of forensic anthropology for the medical examiner's office, told the class. "This is something we are going to do if there are no other leads."
-Noel Brinkerhoff, Steve Straehley
To Learn More:
Through Art and Forensics, Faces of Unidentified Victims Emerge (by Corey Kilgannon, New York Times)
Sculptor Puts Face to Murdered N.C. Child (by Susan Donaldson James, ABC News)
Betty Pat Gatliff Sculpts Faces from Victims' Skulls—An Eerie Art That's Changing Criminal Science (by Kay Cassill, People)