Since 2000, 97 Counties have Switched from Majority Non-Hispanic White to Majority Minority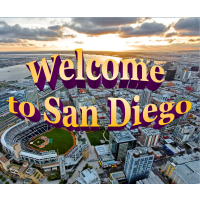 When is a minority not a minority? When they live in a county that is mostly populated by non-white residents.
From 2000 to 2013, 78 counties with more than 10,000 residents that were formerly majority white flipped to majority non-white residents, according to an analysis by Pew Research Center, bringing the total of such counties to 266. Another 19 counties with fewer than 10,000 people also switched.
The largest of the flipped counties is California's San Diego County, which was 55.4% non-Hispanic white in 2000. By 2013, only 47.2% of its 3,211,252 residents were in that category. The next largest is neighboring Orange County, California, long seen as a bastion of white privilege and power. The home of Disneyland is now 51.6% non-white. It is followed by Riverside County, which is also in Southern California. Other large counties to flip include Nevada's Clark, which includes Las Vegas, and Florida's Broward, home of Fort Lauderdale.
The greatest percentage shift was seen in Rockdale County, Georgia. That county, which is east of Atlanta, went from 72.8% non-Hispanic white in 2000 to only 37.8% in 2013. Two other Georgia counties, Henry and Douglas, experienced similar shifts.
Most of the counties that switched to majority-minority status were in the West, South and East Coast. However three Kansas counties, including one of its largest, Wyandotte, flipped, as did two in Oklahoma.
Only two counties among those studied flipped the other way, both of them small. Calhoun County in South Carolina and West Feliciana Parish in Louisiana went from majority-minority to majority white.
Nationwide, non-Hispanic whites still predominate, comprising 63% of all Americans.
-Steve Straehley
To Learn More:
Reflecting a Racial Shift, 78 Counties Turned Majority-Minority Since 2000 (by Jens Manuel Krogstad, Pew Research Center)
States and Counties with the Most… (by Noel Brinkerhoff, AllGov)