Should a Woman Replace Andrew Jackson on the $20 Bill?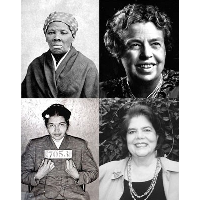 $20 bill candidates clockwise from top left: Harriet Tubman, Eleanor Roosevelt, Wilma Mankiller, Rosa Parks
Putting a woman on U.S. money hasn't worked out that well. The first attempt, with Susan B. Anthony on a dollar coin in 1978, failed in part because the coins were too similar to quarters in size. A second effort in 2000 with an image representing Native American guide Sacagawea on a larger gold-colored coin never gained much traction either. Both were handicapped by the continued printing and circulation of familiar dollar bills.
But now, those who want to see a woman's face on currency are going big. They're suggesting that Andrew Jackson be replaced on the $20 bill by an as-yet-unnamed woman.
The group Women on 20s is trying to get a woman on the $20 bill in time for the 2020 centennial of women winning the right to vote nationally. There are four candidates for the honor remaining after online voting: former slave Underground Railroad "conductor" Harriet Tubman; former first lady and activist Eleanor Roosevelt; Rosa Parks, who ignited the fight for civil rights by refusing to give up her seat on a Montgomery, Alabama, bus; and Wilma Mankiller, the first elected chief of a Native American tribe (Cherokee Nation) in modern times. Voting for the winner continues on the Women on 20s site.
The group says Andrew Jackson is the perfect candidate to be replaced on paper money. Although he was a great military leader, Jackson was also a slave trader and responsible for the forced resettlement of Native Americans from the Southeast United States to Oklahoma on the "Trail of Tears." Coincidentally, he also favored the use of gold and silver over paper money, which makes his presence on U.S. currency somewhat ironic.
-Steve Straehley
To Learn More:
A Woman's Place Is on the Money (Women on $20s)
Should Dollar Coins Replace Dollar Bills? (by Noel Brinkerhoff, AllGov)