Saudi Prince Ordered to Pay Damages after 3 Female Chauffeurs were Fired in Minnesota
Friday, November 13, 2015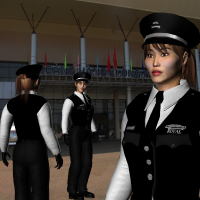 (graphic from Big Boss & Alley's "Airport Crew")
A federal judge has ordered a Saudi prince to pay damages to three women fired from their chauffeur jobs in Minnesota.
Gretchen Cooper, Barbara Herold and Lisa Boutelle were employees of limo companies owned by Mohamed Elbashir in 2010 when he was hired by Prince Abdul-Rahman bin Abdul-Aziz to drive him and his party to the Mayo Clinic.
The women claimed they were selected to help with the chauffeuring because they were told it would be "elegant" for females to drive "ladies and kids." But then they were fired because the prince, who was then a deputy defense minister, reportedly wanted "no women drivers." They were replaced by male chauffeurs.
The women then sued Abdul-Aziz and Elbashir. The prince never responded to the lawsuit, and Elbashir quickly stopped responding as well, according to Courthouse News Service.
After three years of waiting, U.S. District Judge Joan Erickson granted a default judgment (pdf). "This case has been in a state of suspended animation long enough," Erickson wrote in her ruling. The plaintiffs were given 21 days to enumerate their damages for the court. Their wage loss may be as high as $15,000, with more for emotional distress and possible punitive damages.
Two of the three limo companies involved with the case settled with the women, but the third—Crown Prince Limousine—remains a defendant, reported Aljazeera America.
-Noel Brinkerhoff
To Learn More:
Saudi Prince Must Pay for 'Lady-Driver' Bias (by Molly Willms, Courthouse News Service)
Judge Rules for Female Limo Drivers in Saudi Prince Lawsuit (by Liz Sawyer, Star Tribune)
Gretchen E. Cooper, et al v. Prince Abdul-Rahman bin Abdul-Aziz (U.S. District Court, District of Minnesota) (pdf)