Robot Umpire Calls Balls and Strikes in Two Minor League Games
Saturday, August 22, 2015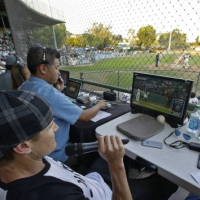 Eric Byrnes announces calls made by PITCHfx system at Pacifics-Admirals game (photo: Eric Risberg, AP)
How do you argue with a computer? Baseball managers might soon have the chance to find out. An independent minor league baseball team has been the first to use a computer instead of a human to call balls and strikes.
The San Rafael Pacifics in Northern California used the PITCHf/x system behind the plate for two games last month against the visiting Vallejo Admirals. The system itself isn't new; it's installed in every Major League Baseball (MLB) stadium in the U.S., where the League uses it to evaluate umpires and fans access its open-source files to analyze data from any game. Baseball enthusiasts are also familiar with it through its depiction of the strike zone on television broadcasts. But this was the first time PITCHf/x has been used in a live game situation.
"It's one of the best umpires we've had all year," Vinnie Longo, the assistant general manager for the Pacifics, told The Smithsonian. The team even gave the computer system a pet name: "Robo Ump."
Although Longo didn't specify whether he was praising the system or sneaking in a dig at the league's regular umpires, PITCHf/x drew some praise from players and even the umpires whose jobs it might take. They said the system—which leaves them free to watch for foul balls and checked swings, and act as review officials—helped speed the game along.
To make its calls, PITCHf/x uses three cameras to look at the strike zone for each batter. In the two Pacifics games, the computer balked only once, when it overheated. The Pacifics' use of the PITCHf/x was promoted by former Oakland A's player Eric Byrnes as a benefit for the Pat Tillman Foundation. Byrnes vocalized the computer's calls.
Those in favor of using the system say it will promote more consistency in calls. Detractors say the removal of the human element, including pitchers tailoring their pitches to umpires' known idiosyncrasies and managers arguing with umpires, will cause fans to lose interest.
"As much as the baseball traditionalists want to resist it, it's coming," Byrnes told the Associated Press.
That may be so, but it's still a long way from being adopted in the tradition-bound major leagues. MLB was the last major American sport to institute instant replay and it's still grappling with those changes. "This is going to make a stop in independent ball first, because we have fewer regulations," Longo said. "But the MLB commissioner is paying attention."
-Steve Straehley
To Learn More:
Are Robot Umpires Coming to Baseball? (by Heather Hansman, The Smithsonian)
First Computerized Strike Zone in Pro Ball Coming — Overseen by Eric Byrnes (by John Shea, San Francisco Chronicle)
San Rafael Pacifics Have Historic Night with Their First Woman Player (by Danny Schmidt, Marin Independent Journal)