Richest 2% Create 4 Times as many Greenhouse Gases Per Capita as Poorest 20%
Tuesday, October 28, 2014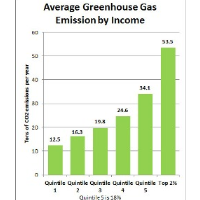 (graphic: Steve Straehley, AllGov)
The wealthy, often criticized for hogging too much of the nation's wealth, also are disproportionate contributors to global warming.
A new study (pdf) from the Center for Global Development says the richest 2% of Americans are responsible for producing four times as much greenhouse gas emissions (GHG) per person—53.5 metric tons of CO2 a year—as the bottom 20% of the population, which generates about 12.5 metric tons per person.
Kevin Ummel, who produced the report, says the top 10% of Americans generate a quarter of the United States' GHG footprint. In contrast, the "least-polluting 40% of the population accounts for only 20% of the total," Ummel wrote.
He also found that suburbs are home to the highest GHG footprints in the country "where relatively inefficient housing and transport converge with higher incomes." GHG footprints tend to decline in rural areas.
His analysis was based on data revealing the GHG footprints for 6 million U.S. households from 2008 to 2012. The study took into account variables such as electricity and fossil fuel use, as well as other factors such as consumption of beef and even education.
-Noel Brinkerhoff
To Learn More:
Who Pollutes? A Household-Level Database of America's Greenhouse Gas Footprint (by Kevin Ummel, Center for Global Development) (pdf)
U.S. Greenhouse Gases back on the Rise; U.S. Still Leads in Per Capita Pollution (by Noel Brinkerhoff, AllGov)
Obama's Plan to Cut Greenhouse Gases by 30% in 15 Years…10 States just did it in 7 (by Steve Straehley, AllGov)