Refrigerator Used to Launch Hacker Attack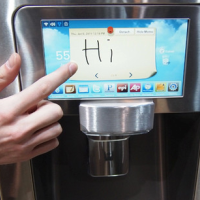 Samsung smart refrigerator
It has been well established that hackers often hijack computers of unsuspecting users to launch cyberattacks. But this kind of technology takeover has moved beyond laptops and desktop computers and now includes "smart" home appliances, like televisions and refrigerators.
An Internet security provider, Proofpoint, Inc., says it found the first example of an Internet of Things (IoT)-based hacking scheme that included at least one fridge, as well as thousands of computers, TVs, home-networking routers and multimedia centers.
The consumer goods were responsible for sending out more than a quarter of the 750,000 malicious emails delivered between December 23, 2013, and January 6, 2014, by unidentified cyber criminals.
Proofpoint says this kind of IoT-based cyber assault will only increase in coming years, with "significant security implications for device owners" and those targeted by hackers.
"Bot-nets are already a major security concern and the emergence of thingbots may make the situation much worse," David Knight, general manager of Proofpoint's Information Security division, said. "Many of these devices are poorly protected at best and consumers have virtually no way to detect or fix infections when they do occur. Enterprises may find distributed attacks increasing as more and more of these devices come on-line and attackers find additional ways to exploit them."
Last year, Trustwave SpiderLabs issued a warning that a Japanese "smart" toilet was vulnerable to hacking that "could cause the unit to unexpectedly open/close the lid, activate bidet or air-dry functions, causing discomfort or distress to user."
-Noel Brinkerhoff
To Learn More:
Proofpoint Uncovers Internet of Things (IoT) Cyberattack (Proofpoint)
Japanese Smart Toilet Vulnerable to Hackers (by Stephanie Milot, PC Magazine)