Real Native American Police Officer Arrested for "Impersonating" a Police Officer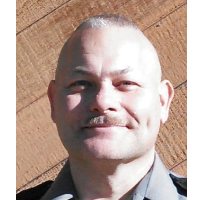 Daniel Johnson (photo: Bishop Paiute Tribe Newsletter)
A Native American police officer serving on the Bishop Paiute Tribe reservation in California was arrested earlier this year and now is facing charges of impersonating an officer of the law, which he actually is.
Officer Daniel Johnson was arrested by Inyo County Sheriff's deputies following an incident last December in which Johnson tried to arrest a non-Indian woman for trespassing and violating a restraining order while on the reservation.
Johnson arrived on the scene in response to a call from the woman's ex-husband, who complained his former wife was causing a disturbance at his home while attempting to visit her son. During the attempted arrest of the woman, who was not identified in court records, Johnson unsuccessfully employed his stun gun twice to subdue the woman, who had become violent towards the officer. An Inyo County deputy arrived and assisted Johnson, but then called for police back-up when the two officers became outnumbered by the woman and her hostile family members. She was ultimately cited, but not arrested at the request of her ex-husband.
The Inyo County district attorney has charged Johnson with falsely representing himself to be a public officer, assault with a stun gun, false imprisonment, and simple battery.
The Paiute Tribe contends the arrest and pending prosecution of Johnson violate federal common law and interferes with the tribe's authority to maintain a police department and protect public safety on its reservation, according to Courthouse News Service.
"It is unfortunate and regrettable that the Inyo County Sheriff's Office and district attorney have taken the unprecedented actions against Officer Johnson and fail to recognize the inherent tribal sovereignty of the Bishop Paiute Tribe (including the authority bestowed to our Tribal Police Department). The Bishop Paiute Tribal Police Department continues its commitment to public safety and the protection of all citizens and residents of the reservation and surrounding communities," the tribe said in a statement.
-Noel Brinkerhoff
To Learn More:
Tension Between Tribe and California Sheriff (by Elizabeth Warmerdam, Courthouse News Service)
Bishop Tribe Supports Officer; Inyo County Has Response (Bishop Paiute Tribe)
Bishop Paiute Tribe Defends Officer Facing Charges In County (Indianz.com)