Rats! New York City's Claim of 8 Million Rodents is 6 Million Too Many
Saturday, November 08, 2014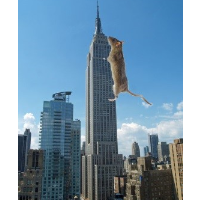 (photo graphic: Steve Straehley, AllGov)
An unusual point of civic pride has been debunked in New York City.
Residents of the Big Apple have long (and proudly) claimed that there were so many rats in the city that the rodent population was on par with the human one. That meant the metropolis had about 8 million rats.
Not so, says one expert.
Statistician Jonathan Auerbach, who is pursuing his doctorate at Columbia University, was rewarded recently for calculating that New York's rat population was closer to 2 million. His research paper ("Does New York City Really Have as Many Rats as People?" [pdf]) was honored by the 180-year-old Royal Statistical Society of London, according to The New York Times.
It wasn't easy to reach his conclusions. "Animals are terrible survey respondents," he pointed out facetiously. His first impulse was to trap some rats, mark them, and see how many turned up in a subsequent roundup. It turned out that the Health Department "is unlikely to approve a large-scale rat-releasing experiment (I know, because I asked)," he wrote. He eventually used data from rat-report calls to a city hotline.
Another voice of authority, author Robert Sullivan, who wrote the book "Rats: Observations on the History and Habitat of the City's Most Unwanted Inhabitants," concurred with Auerbach's analysis.
"Anybody who knows anything about rats knows there aren't eight million rats," Sullivan told the Times. "But anybody who knows anything about rats knows that everybody loves the idea of eight million rats. The one-rat-per-person scenario is too good."
-Noel Brinkerhoff
To Learn More:
8 Million Rats for 8 Million New Yorkers? Data Suggest a City Legend Is Flawed (by James Barron, New York Times)
Does New York City Really Have as Many Rats as People? (by Jonathan Auerback, Significance)
Rat Information Portal (New York City Department of Health and Mental Hygiene)
18,400 Rodents, 600 Reptiles Euthanized in Private Facility after PETA Probe Revealed "Horrendous" Conditions (by Ken Broder, AllGov California)