Poor People More Likely to Die in Auto Accidents
Tuesday, October 13, 2015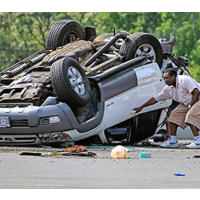 (photo: Getty Images)
Traffic fatalities are down overall in the U.S., but not among the poor. In fact, motor-vehicle fatality rates are increasing among low-income Americans.
Research published in the American Journal of Epidemiology shows the biggest declines in fatalities have occurred among the most educated, who also tend to be more affluent. But fatality rates have actually increased over time for people 25 and older with less than a high school diploma, who tend to be lower-income.
The gap in traffic death rates has only gotten wider since 1995. Twenty years ago, death rates from car accidents were about 2.5 times higher for those at the bottom of the education spectrum than those at the top, The Washington Post reported. "By 2010, they were about 4.3 times higher. That means the inequality of traffic fatalities is getting worse," Emily Badger and Christopher Ingraham reported.
"The underlying issue here is not that a college degree makes you a better driver. Rather, the least-educated tend to live with a lot of other conditions that can make getting around more dangerous. They own cars that are older and have lower crash-test ratings. Those with less education are also likely to earn less and to have the money for fancy safety features such as side airbags, automatic warnings and rear cameras," they added.
-Noel Brinkerhoff
To Learn More:
The Hidden Inequality of Who Dies in Car Crashes (by Emily Badger and Christopher Ingraham, Washington Post)
Poor People Are More Likely To Die While Driving Than Ever Before (by Alex Lloyd, Yahoo Autos)
Trends in Socioeconomic Inequalities in Motor Vehicle Accident Deaths in the United States, 1995-2010 (by S. Harper, T.J. Charters, and E.C. Strumpf, National Center for Biotechnology Information) (abstract)
Drivers in Republican-Leaning States more likely to Die in Accidents than those in Democratic States (by Noel Brinkerhoff, AllGov)