Police Finally Capture Man Who Failed to Return VHS Movie Rental 14 Years Ago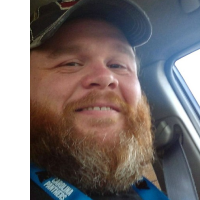 James Meyers (photo: Facebook)
By Mike Mcphate, New York Times
The law caught up with a wanted man on the streets of North Carolina this week.
The man, James Meyers, was driving his 10-year-old daughter to school in Concord, North Carolina, northeast of Charlotte, when a police car pulled him over for a broken brake light.
But when the officer ran his license, he confronted him with an older crime, from 14 years ago. "Sir, I don't know how to tell you this," the officer began. Meyers had a 2002 warrant out for his arrest for failing to return a VHS movie rental of "Freddy Got Fingered."
"I just laughed," Meyers recalled Thursday.
The officer let Meyers go and told him to show up later at the police station, where officers took him to a magistrate's office, patted him down and put him in handcuffs.
Since Tuesday, the story of Meyers' ordeal has gained wide attention, spreading from a YouTube video he posted to a local broadcaster and, finally, ricocheting around the world on social media.
Fueling the fascination are the quaint technology involved in the crime — a VHS tape, the bulky cassette that seems like such a distant memory in the age of Netflix — and the choice of movie. Of all the films to be handcuffed over, "Freddy Got Fingered" is arguably among the most awkward.
Starring the gross-out comedian Tom Green at the height of his fame, the movie was viciously panned by critics. Some called it among the worst movies ever made. It has, nonetheless, garnered a cult following.
In an interview Thursday, Green said he also laughed when he heard about Meyers' case.
"It is just kind of ridiculous all around," he said. "I think the fact that the movie was 'Freddy Got Fingered' just makes it funnier for some reason. I don't know why." Meyers, a caterer who also performs as a dance music DJ under the name Mad Influence, said he had no idea what happened to the VHS tape, but he does remember watching it and laughing hysterically.
Lawyers say arrests for overdue rentals are rare, but cases have been reported in several states, among them Colorado, Wisconsin, Texas and South Carolina.
In 2012, a woman in New Mexico was arrested in front of her five children and accused of failing to return a "Twilight" DVD set and a library book. She later won a settlement of $7,500 because the city had failed to properly notify her about a summons, her lawyer, Eric Dixon, said Thursday.
"Arresting people for these petty issues" clogs up the criminal courts, Dixon said. Such cases should be decriminalized and handled like traffic tickets in civil court, he said.
Meyers was ordered to appear in court on April 27 to answer the charge of "failure to return rental property," a misdemeanor. He said it was unclear what would happen.
The video store, J&J's Video in Salisbury, has since closed.
Meyers said he rewatched "Freddy Got Fingered" on Wednesday. About 1:30 a.m., his phone rang. On the other end was a voice re-enacting one of the most famous scenes from the movie, when Freddy ties sausages to his fingers and chants, "Daddy, would you like some sausage."
"I instantly knew who it was," Meyers said. "I almost died."
Green, who is on a comedy tour in Australia, told Meyers he would help with any fees related to the case.