Pigeon Detained in India as Possible Spy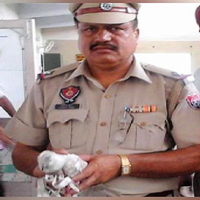 Pigeon detained in India as possible spy (photo: Himdustan Times)
When it comes to the India-Pakistan border, it seems even a bird is not above suspicion. A white pigeon that flew into India with "Pakistani markings" has created a security flutter in the Pathankot district of Punjab.
The "suspect", now in police custody, was nabbed by villagers in the Bamial sector of Pathankot district, just a few kilometres away from the border with Pakistan.
The bird, with a Pakistani seal and "Tehsil Shakargarh, district Narowal" stamped on it in Urdu, was spotted by Ramesh Chand of Manwal village who took it to Bamial police station.
Shakargarh tehsil is in Narowal district of Pakistan's Punjab province close to the border.
"We are investigating the matter and have alerted the Intelligence Bureau (IB) and the Border Security Force (BSF)," said SSP, Pathankot, R K Kaushal. "It may be harmless but we cannot take any chances".
The district police have even had an X-Ray done of the bird to check if there was something hidden inside it. "But we did not find anything in the scan," said Kaushal.
BSF Deputy Inspector General of Police R S Kataria, based at the BSF Punjab Frontier headquarters in Jalandhar, said the pigeon was "inspected" by senior officials, including the commanding officer of the BSF battalion based in the area.
"Nothing suspicious has been found as yet but we are not taking any chances," Kataria told the Indian Express. He said the bird could have been used to deliver a message or a SIM card to a contact across the border.
According to the Hindustan Times, a polyclinic in Gurdaspur is examining the bird and the numbers and the address stamped on its feathers.
This is not the first time that a pigeon has been detained on suspicion of being a Pakistani courier.
In March, a pigeon was found near the border with Pakistan in Gujarat with a chip on one leg, a ring with a code on the other leg, and Arabic words written on its wing.
And in May 2010 another pigeon with Pakistani markings was "apprehended" near the border in the Amritsar sector of Punjab. It was later handed over to wildlife authorities after being "cleared" in investigations.
-Karan Singh
To Learn More:
"Spy" pigeon from Pakistan jailed in Pathankot (by Rohan Dua, Times of India)
Pigeon with 'Pakistani markings' sparks alert at the India-Pakistan border (by Man Aman Singh Chhina, Indian Express)
This white pigeon from Pakistan triggers flutter in village near Pathankot, goes under X-ray (by Vinay Dhingra, Hindustan Times)
Pigeon with microchip found in Gujarat, anti-terror squad begins probe (Hindustan Times)