Percentage of Foreign-Born in U.S. Highest in a Century
Tuesday, September 29, 2015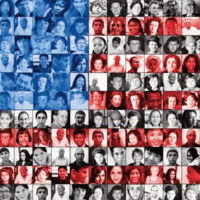 (graphic: Google Images)
The United States today has the highest percentage of foreign-born residents in more than a century, according to the Pew Research Center.
As of this year, first-generation immigrants made up 13.9% of the U.S. population. That's the highest rate since 1910, when it was 14.6%, the Pew Research Center reported.
"There were a record 41.3 million immigrants living in the U.S. in 2013, making up 13.1% of the nation's population," Anna Brown and Renee Stepler reported. "This represents a fourfold increase since 1960, when only 9.7 million immigrants lived in the U.S., accounting for just 5.4% of the total U.S. population."
Brown and Stepler also noted a "dramatic shift" in the region of origin of immigrants over the past 50-plus years. In 1960, people from Europe or Canada made up 84% of immigrants living in the U.S. Today, they represent only 14% of this population. Meanwhile, the share of immigrants from Mexico surged from 6% in 1960 to 28% by 2013. Asian immigration produced a similar jump, going from 3.8% 55 years ago to 25.8% this year.
-Noel Brinkerhoff
To Learn More:
Statistical Portrait of the Foreign-Born Population in the United States, 1960 – 2013 (by Anna Brown and Renee Stepler, Pew Research Center)
One-Quarter of Americans are First-or Second-Generation Immigrants (by Noel Brinkerhoff and Steve Straehley, AllGov)