Organic Produce Now Accounts for 12% of Sales in U.S.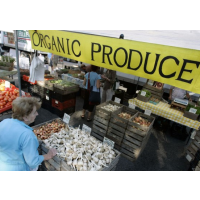 (photo: Richard Drew, AP)
The organic food industry continues to enjoy robust growth in the U.S., according to new figures from trade groups and the federal government.
Twelve percent of all the produce now sold in the United States is organic, according to the Organic Trade Association (OTA). OTA says that organic's market share has more than doubled in the past decade, having climbed upward from only 5%.
The trade group also reported that sales of organic food and other organic products were up 11.3% last year, and that total organic sales in 2014 reached a record $39.1 billion. Sales of organic food totaled $35.9 billion, representing an 11% increase over 2013 sales.
Organic non-food sales came in at $3.2 billion, which was an even bigger jump—nearly 14%. OTA said the rise was the largest annual increase in six years.
"In blue states and red states, across the heartland of America and all along the Gulf Coast, sales of organic products are posting double-digit increases," according to an OTA press release.
"The majority of American households in all regions of the country now make organic a part of their supermarket and retail purchases – from 68 to almost 80 percent of households in southern states, to nearly 90 percent on the West Coast and in New England," OTA said.
The trade group also reported that organic sales are reaching the "milestone" of 5% share of the total food market in the U.S.
In addition to OTA's numbers, the federal Agricultural Marketing Service (AMS) has reported that the number of domestic certified organic operations increased by more than 5% over the last year. The number of domestic organic operations has soared since 2002 by over 250%, according to AMS. The United States Department of Agriculture reports that there are nearly 20,000 certified organic operations in the U.S., compared to a total of about 28,000 around the world.
When OTA first began tracking the performance of the U.S. organic industry in 1997, the organic food business accounted for less than 1% of total food sales—about $3.4 billion.
-Noel Brinkerhoff
To Learn More:
U.S. Consumers Across the Country Devour Record Amount of Organic in 2014 (Organic Trade Association)
USDA Announces Record Number of Organic Producers in U.S. (U.S. Department of Agriculture)
Organic Groups Fight for Clean Compost (by Katherine Proctor, Courthouse News Service)
As Organic Foods Grow in Popularity, So Does Organic Fraud (by Noel Brinkerhoff and Steve Straehley, AllGov)