Oregonians Can Now Legally Smoke Marijuana…but they can't Buy it or Sell it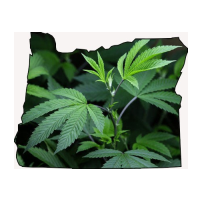 (photo: AP; photo illustration: Steve Straehley, AllGov)
Today will mark the entry of another state into the legal marijuana club: Oregon.
But Oregon will stand apart from Colorado and Washington, which were the first states to decriminalize recreational marijuana, because unlike residents in those states, Oregonians won't be able to buy or sell pot for the time being.
The state approved recreational marijuana with the passage of Measure 91 (pdf) in November 2014. The measure legalized recreational pot use for anyone 21 and over, and it authorized the Oregon Liquor Control Commission to tax, license and regulate recreational marijuana growers and sellers. But the process of starting up Oregon's legal marijuana industry has been slow.
"Licensed retail shops, however, are not expected to begin selling recreational marijuana for personal use until fall 2016," the Statesman Journal reported.
So for now, Oregon pot smokers will have to grow their own—they're allowed to have four plants each—or rely on the kindness of others to give them some weed. Another option is to drive into neighboring Washington, but bringing marijuana across state lines is a federal crime.
State lawmakers are considering legislation to allow medical marijuana dispensaries to sell limited amounts to recreational users. "But the bill's future was uncertain," Carol McAlice Currie wrote in the Statesman Journal.
Last night at midnight, Portland's National Organization for the Reform of Marijuana Laws (NORML) chapter was scheduled to give away marijuana to celebrate its new legal status. "We're calling it a celebration of the midnight hour," Russ Belville, head of Portland NORML said. "Where adults will be allowed to give it away rather than allowing the black market to thrive on our new legality."
-Noel Brinkerhoff, Steve Straehley
To Learn More:
Pot Will Be Legal in Oregon — But You Can't Buy It (by Carol McAlice Currie, Statesman Journal)
Oregon: Marijuana Is Officially Legal on Wednesday (by Mike Adams, High Times)