Oregon Court Rules Smell of Marijuana is not Inherently Offensive
Saturday, August 22, 2015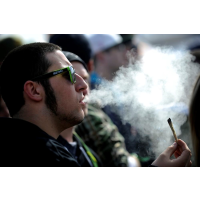 (photo: Seth McConnell, Denver Post via Getty Images)
Pot smokers in Oregon, where the drug was legalized July 1, can rest assured that the smell of marijuana coming from their homes is not going to get them in trouble with the law.
Jared William Lang's neighbors complained about the frequent smell of pot coming from his unit. Philomath police got a warrant to search Lang's apartment based on the premise that he might be guilty of second-degree disorderly conduct by creating a "physically offensive" smell. When police entered the apartment, they found aerosol paint cans and stencils that indicated Lang had sprayed graffiti on street signs and other property in Philomath, according to The Oregonian.
He wound up being convicted on three counts of misdemeanor second-degree criminal mischief. Lang appealed the convictions, claiming police had no right to search his home based on the pot smoking complaints.
The Oregon appeals court heard Lang's case, and threw out his convictions. The court also said it wouldn't declare the odor of marijuana smoke offensive. It depends on the "intensity, duration, or frequency" of the smoke, according to the court.
"We are not prepared to declare that the odor of marijuana smoke is equivalent to the odor of garbage. Indeed, some people undoubtedly find the scent pleasing," the court wrote.
-Noel Brinkerhoff
To Learn More:
Odor of Marijuana Smoke Wafting from Neighbor's Apartment Not Legally "Offensive," Appeals Court Rules (by Aimee Green, The Oregonian)
State of Oregon v. Jared William Lang (Oregon Court of Appeals) (pdf)
Lawyer who Defends Corporations Accused of Creating Toxic Pollution Sues Neighbor for Smoking Inside his own House (by Noel Brinkerhoff and Steve Straehley, AllGov)