Ohio Supreme Court Rules NFL Players Were Overtaxed When They Played Cleveland Browns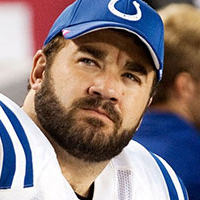 Jeff Saturday, taxed for playing in Cleveland even when he didn't (photo: Indianapolis Colts)
Those drafted last week by the NFL, as well as all the other players in the league, can breathe a sigh of relief if they find Cleveland on their teams' schedules. Not because of the Browns' mediocre 7-9 record last season, but because the city can no longer take more in taxes than it deserves.
All pro athletes must pay income tax, known as a "jock tax" to the jurisdictions in which they play. In the case of Major League Baseball, NBA and NHL players, they even have to pay taxes in two countries, the United States and Canada. But some cities, Cleveland among them, also levy income taxes. That city was taking a cut of visiting NFL players' salaries in proportion to their team's schedules. If the team played 20 games, including exhibitions, Cleveland would count 5% of a visiting player's salary as subject to that city's income tax.
But as former Chicago Bear Hunter Hillenmeyer knows, players work many more days than those on which they're scheduled to play. He sued Cleveland, saying that his tax should be based on his work duty days, or all the days on which he works, including practices, training and other activities. The Ohio Supreme Court agreed with him, ruling (pdf) last week that the city can tax players only on days they work in the city; for visiting NFL players in town for a game, usually two days out of an approximate annual working schedule of 163 days.
"Cleveland's power to tax reaches only that portion of a nonresident's compensation that was earned by work performed in Cleveland," the opinion said. "The games-played method reaches income for work that was performed outside of Cleveland, and thus Cleveland's income tax violates due process as applied to NFL players such as Hillenmeyer."
The court ordered a partial refund of the taxes Hillenmeyer paid to Cleveland amounting to $5,062, according to the Chicago Tribune.
And Cleveland tax collectors' record in court appears to be even worse than the Browns' against the NFL. It lost a second similar case last week, this one brought by an NFL player who didn't even play against the Browns. Former Indianapolis Colt Jeff Saturday also sued Cleveland, saying he shouldn't have had to pay the city any tax for the game his team played in 2008 because he was back in Indiana rehabilitating an injury. Again, the Ohio Supreme Court agreed (pdf), ordering that Saturday be refunded all the money he paid in municipal tax to Cleveland.
The city might now be forced to refund taxes to all visiting athletes who've played there over the years. Looks like it's going to be a long season for Cleveland.
-Steve Straehley
To Learn More:
Former Chicago Bear Wins Suit Over Cleveland's 'Jock Tax' (by Ameet Sachdev, Chicago Tribune)
Cleveland's 'Jock Tax' Held Unconstitutional (by Jeff Gorman, Courthouse News Service)
Injured NFL Player Wrongly Taxed by City (by Kevin Koeninger, Courthouse News Service)
Former Colt Saturday Wins 'Jock Tax' Case Against Cleveland (Bloomberg News)
Hillenmeyer v. Cleveland Board of Review (pdf)