Oceans Polluted with more than 5 Trillion Pieces of Plastic Weighing 268,940 Tons
Friday, December 12, 2014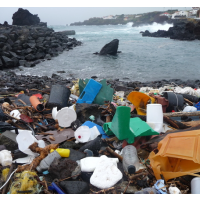 Plastic debris washed ashore on beach in the Azores (photo: Marcus Erikson, 5-Gyres Institute)
Human civilization has dumped a staggering amount of plastic into the world's oceans, according to a new scientific study.
The research by a team of experts says there currently is more than five trillion pieces of plastic floating in ocean waters.
The 5.25 trillion pieces weighs 268,940 metric tons.
Dr. Marcus Erikson, who led the study, told the Huffington Post one way to visualize that amount of plastic is to imagine a line of 2-liter plastic bottles running between the earth and the moon … twice.
He also said the numbers he and his colleagues produced are on the conservative side. That's because countries produce 300 million tons of plastic every year, of which 0.1% is discarded in the ocean, according to an estimate from the National Academy of Sciences.
The researchers based their findings on data collected from 24 expeditions made between 2007 and 2013 across five sub-tropical ocean gyres, coastal Australia, Bay of Bengal and the Mediterranean Sea.
-Noel Brinkerhoff
To Learn More:
Plastic Pollution in the World's Oceans: More than 5 Trillion Plastic Pieces Weighing over 250,000 Tons Afloat at Sea (by Marcus Eriksen, Laurent C. M. Lebreton, Henry S. Carson, Martin Thiel, Charles J. Moore, Jose C. Borerro, Francois Galgani, Peter G. Ryan and Julia Reisser, PLoS One)
Plastic Pollution in the Atlantic Ocean (by David Wallechinsky and Noel Brinkerhoff, AllGov)
Ocean Plastic Estimated at 5.25 Trillion Pieces -- But Where's the Rest? (by Belinda Waymouth, Huffington Post)