Obama Signs Bill to Remove Offensive Names for Minority Groups from U.S. Laws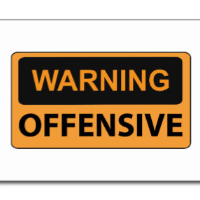 (graphic: Zazzle)
WASHINGTON (AP) — Federal laws will no longer include outdated and offensive terms used to describe minority groups.
President Barack Obama signed a bill striking the several terms, including "Negro" and "Oriental" on Friday, the White House said.
Those terms will be replaced with "African American" and "Asian American."
The bill removing the terms passed the House in February and the Senate last week. No one in either chamber objected.
The language targeted by the bill had appeared in laws dating to the 1970s that attempted to define minorities.
In the Department of Energy Organization Act the phrases "a Negro, Puerto Rican, American Indian, Eskimo, Oriental, or Aleut or is a Spanish speaking individual of Spanish descent" will be replaced with "Asian American, Native Hawaiian, a Pacific Islander, African American, Hispanic, Puerto Rican, Native American, or an Alaska Native."
The same language changes will be made to the Local Public Works Capital Development and Investment Act of 1976.