Obama Administration Ends 16-Year Rule Forcing Non-Federally-Funded Marijuana Research to be Approved by Government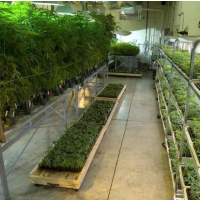 NIDA marijuana operation (photo: Mississippi School of Pharmacy)
Independent research of marijuana just got a little easier, though there are still plenty of hurdles mandated by Washington for those studying the drug.
Until now, non-federally funded research of marijuana had to undergo review by the Public Health Service. This rule was put into place years ago out of concern that government guidelines for such research weren't strong enough. The Obama administration, however, has announced that the agency's approval is no longer needed.
"The next step should be moving marijuana out of Schedule I to a more appropriate category, which the administration can do without any further Congressional action," Tom Angell of Marijuana Majority told The Washington Post. "Given what the president and surgeon general have already said publicly about marijuana's relative harms and medical uses, it's completely inappropriate for it to remain in a schedule that's supposed to be reserved for substances with a high potential for abuse and no therapeutic value."
Other rules affecting independent marijuana studies still apply. Researchers must, according to the Post:
Submit their study proposal to the Food and Drug Administration for a thorough review of its "scientific validity and ethical soundness."
Get a marijuana permit from the Drug Enforcement Administration.
Obtain medical marijuana only from the Drug Supply Program run by the National Institute on Drug Abuse (NIDA) in Mississippi.
"The two biggest hurdles to marijuana research have been the PHS review and NIDA's monopoly on the supply of marijuana available for research purposes," Dan Riffle, director of federal policies for the Marijuana Policy Project, told the International Business Times. "Now that one of those unnecessary barriers has been removed, we hope the second will undergo serious scrutiny."
-Noel Brinkerhoff
To Learn More:
Obama Administration Takes a Big Step Forward on Marijuana Research (by Sam Collins, ThinkProgress)
The Obama Administration Just Made Medical Marijuana Research Easier (by Christopher Ingraham, Washington Post)
Announcement of Revision to the Department of Health and Human Services Guidance on Procedures for the Provision of Marijuana for Medical Research as Published on May 21, 1999 (Department of Health and Human Services)
Federal Government Finally Funds Research that Explores Positive Uses of Marijuana (by Steve Straehley, AllGov)
Obama Administration Blocks FDA-Approved Study of Marijuana for Veterans (by Noel Brinkerhoff, AllGov)