North Carolina is the Only State with a Government Commission to Investigate Wrongful Convictions
Thursday, February 12, 2015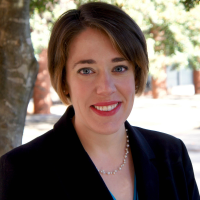 Kendra Montgomery (photo: Innocence Inquiry Commission)
If you're going to be wrongly convicted of a serious crime, North Carolina is the one and only state to be in.
Only in the Tar Heel State is there a state government agency, the North Carolina Innocence Inquiry Commission, whose sole job is to review convictions and help prisoners clear their names.
Some states have organizations that investigate capital cases, but these are non-governmental nonprofits or think tanks. The commission, unlike these others, can issue subpoenas to force people to testify, something a nonprofit can't do. It is also authorized to collect and test physical evidence.
The commission's executive director, Kendra Montgomery, proudly says: "We're the only state that has a government agency that is neutral to investigate these cases," according to The Atlantic.
Some legal experts have praised the commission's mission. Mary Kelly Tate, a professor at the University of Richmond and the director of the law school's Institute for Actual Innocence, has called it "a fantastic innovation."
In operation since 2006, the commission has received 1,642 claims to date. Its work has led to eight exonerations so far.
Many of the claims it receives are rejected for various reasons, the most common (28% of the time) being lack of new evidence, such as DNA evidence or new testimony from witnesses. The commission's investigators managed to locate evidence that had already been established as missing in at least 18 cases. Wrongly convicted people were exonerated in three of those cases. In others, the convictions were confirmed by the new evidence.
The commission has eight members, including a prosecutor, a criminal-defense attorney, a sheriff, a superior court judge, a victims' rights advocate, a member of the public, and two discretionary appointments.
Montgomery says she is regularly contacted by officials from other states who want to use the North Carolina commission as a model for such an agency in their own states. Lack of funding is usually what stalls or prevents that from happening.
-Noel Brinkerhoff
To Learn More:
Guilty, Then Proven Innocent (by Matt Ford, The Atlantic)
After 36 Years, Joseph Sledge's Unfamiliar Feeling: Normal (by Mandy Locke, News & Observer)
North Carolina Innocence Inquiry Commission
Texas Leads the U.S. in Compensating Wrongly Convicted; 21 States Say "Sue Us" (by Noel Brinkerhoff and Steve Straehley, AllGov)