New York City Police Officers Reminded to Allow Women to Bare their Breasts in Public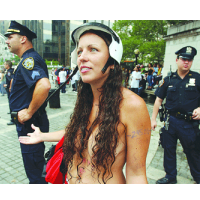 Jill Coccaro (aka Phoenix Feeley) (photo: Ramin Talaie, The Villager)
It has been legal in New York State since 1992 for women to bare their breasts in public. But apparently, the New York City Police Department (NYPD) had not officially addressed the fact until recently.
Back in February, during their daily orders at roll call, NYPD officers were instructed to not arrest any female who exposes her breasts in a public setting.
The department did not say why it commanded its officers to stop making such arrests.
But The New York Times reported the policy change may have had something to do with Holly Van Voast, a Bronx photographer and performance artist known for baring her breasts.
Van Voast has been arrested at least 10 times for showing off her chest. She recently filed a federal lawsuit against the city and the department to challenge such apprehensions.
Her litigation reminded authorities that New York's Supreme Court ruled decades ago that baring one's chest in public— noncommercial activity—is as legal for a woman as it is for a man.
The order was disclosed in an official memorandum contained in Van Voast's lawsuit. The NYPD, said bare-breasted women should not be cited for public lewdness, indecent exposure or any other section of the penal law.
However, they can be arrested if the breast-baring involves a lewd act, such as public masturbation.
In 2005, Jill Coccaro was arrested for going topless in New York, but sued the city and received $29,000 in a settlement.
-Noel Brinkerhoff
To Learn More:
See Topless Woman? Just Move On, Police Are Told (by J. David Goodman, New York Times)
State of New York v. Santorelli (Court of Appeals of New York)
Bra-vo! $29G in Topless Suit (NYDailyNews)
NYC Woman Arrested on Topless Stroll Accepts $29,000 from City (Associated Press)
The Battle over Nipple Exposure in North Carolina (by Matt Bewig, AllGov)