Mother Wins Settlement after Child Welfare took away her Baby because she ate Poppy Seeds in Pasta Dressing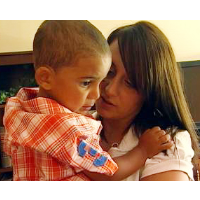 Brandon and Eileen Bower
A Pennsylvania woman who had her newborn baby taken away from her because she had consumed poppy seeds has won a legal settlement against a child welfare agency.
Eileen Bower went into labor on July 12, 2009, and was taken to Jameson Health Systems in New Castle, where she provided a urine sample to medical staff. After the sample tested positive for an unlisted amount of morphine, the results were forwarded to the Lawrence County Children and Youth Services (LCCYS).
Bower was later informed of her positive drug result, which was used by a LCCYS caseworker to remove the baby from her mother—even though the child tested negative for opiates.
Bower denied using any drugs, and claimed the Supreme Pasta dressing she ate before going into labor contained poppy seeds. Mother and child were kept apart for 75 days, and after being reunited, Bower sued LCCYS.
U.S. District Judge Terrence McVerry ruled in favor of the plaintiff, who claimed violations of her due process rights under the 14th Amendment, conspiracy to violate her constitutional rights, and negligence on the part of LCCYS.
"By taking custody of Baby Brandon without any effort to corroborate the drug test and without talking to the parent, LCCYS policy did not provide sufficient protection for the fundamental parental rights involved in light of the drastic nature of the deprivation," McVerry wrote. "The LCCYS action in this case was an arbitrary use of government power which transcended the realm of negligence and deliberate indifference."
The issue of damages will be decided by a jury in September.
In a similar case, Elizabeth Mort had her 3-day-old daughter, Isabelle Rodriguez, taken away from her for five days in April 2010 after she ate an everything bagel with poppy seeds. In July, Lawrence County and Jameson Hospital paid $143,500 to settle the case with Mort.
-Noel Brinkerhoff
To Learn More:
New Mom Wins Suit Over Baby-Seizing Nightmare (by Rose Bouboushian, Courthouse News Service)
US Mother Wins Lawsuit Over Poppy Seed Bagel (BBC News)
Court Opinion and Order: Eileen A. Bower v. Lawrence County Children and Youth Services, Eva and Jameson Health Systems (U.S. District Court) (pdf)
Mother Loses Baby in Mississippi Because She Doesn't Speak English (by Noel Brinkerhoff and David Wallechinsky, AllGov)