Monkey Should Own Copyright to His Selfie, Argues Primate Expert in Case Appeal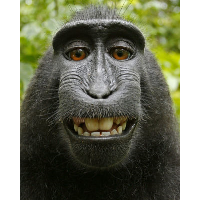 Selfie taken by the macaque monkey, Naruto (photo: David Slater, Wikimedia Commons)
By Nicholas Iovino, Courthouse News Service
SAN FRANCISCO (CN) — Monkeys such as the Indonesian crested macaque who snapped a self-portrait are highly intelligent and deserve to own copyrights, a primatologist told the Ninth Circuit last week.
Agustin Fuentes, a primate expert and biological anthropologist from the University of Notre Dame, submitted an 18-page amicus brief (pdf) on Aug. 4 supporting the quest to overturn a federal judge's dismissal of a lawsuit over ownership of monkey selfies.
People for the Ethical Treatment of Animals sued nature photographer David John Slater in September 2015, claiming that Naruto, a then-6-year-old crested macaque, is the rightful owner of copyrights for his selfie photos.
In 2011, Naruto used his opposable thumbs to shoot pictures of himself with Slater's camera.
PETA said profits from the licensing and distribution of those selfies should go to benefit Naruto and his endangered Maccaca nigra species, which face encroachment from human development on their home island of Sulawesi in Indonesia.
"There is a great deal of data demonstrating conclusively that primates have complex social cognition, and are able to manipulate objects to gain desired effects," Fuentes wrote in his 18-page brief.
Fuentes said Naruto "likely made the connection between manipulation of the camera as an item and the sound of the shutter and changing image in the lens as the shutter clicked."
Although Naruto may not understand the concept of a photograph, Fuentes said, the monkey intentionally engaged with the camera by observing human behavior and then using the device while making funny faces, clicking the shutter button and responding to camera noises.
"Macaques in particular are characterized by extremely developed capacities for object manipulation, and strong tendencies to engage in such behavior," Fuentes wrote.
The primatologist cited PETA's appeal brief, which states that Congress has described the history of copyright law as "one of gradual expansion in the types of works accorded protection."
Fuentes says Naruto undertook a series of deliberate actions to create works of art, and that his use of varying facial expressions reflect aspects of his personality.
"Whether or not the image produced was the goal, all of the actions needed to produce that image were undertaken by Naruto, were likely intentional and focused, and are well within the range of macaque capabilities," Fuentes concluded.
U.S. District Judge William Orrick III dismissed PETA's lawsuit against Slater in February, citing the 2004 Ninth Circuit ruling in Cetacean Community v. Bush, which held that animals lack legal standing to sue.
PETA appealed the dismissal in March.
Slater's attorney, Andrew Duhey of Berkeley, said the Ninth Circuit will not consider reversing its precedent-setting ruling on animals' standing to sue until the issue is taken up at an en banc hearing.
Duhey said he does not expect the appeals court to change its thinking on the matter unless the president or Congress unequivocally declare that animals have the right to sue.
To Learn More:
Naruto v. David J. Slater, et al. (U.S. Court of Appeals for the 9th Circuit) (pdf)
Federal Judge Denies Monkey Copyright to Its Own Selfies (by Olga R. Rodriguez, Associated Press)