Money Actually Does Buy Happiness, Says Study
Wednesday, January 16, 2013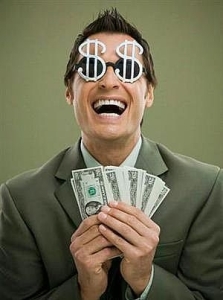 The late Notorious B.I.G. once rapped that with more money, comes more problems, which was just another way of repeating the oft-repeated notion that money can't buy happiness.
But economists at the Wharton School at the University of Pennsylvania have refuted this idea, claiming in a new research paper that, indeed, money can purchase a happier state of being.
In "The New Stylized Facts about Income and Subjective Well-Being," Daniel W. Sacks, Betsey Stevenson, and Justin Wolfers say people with higher incomes reported having higher states of well-being. That includes individuals all the way up the ladder to the top 10% of earners.
The researchers analyzed the incomes of 122 nations, along with the results of Gallup polls on citizens' well-being that were conducted in those countries. In doing so, they found a direct correlation between richer countries and people who are happier.
They also found that as countries get richer, the happiness factor rises, leaving them to conclude there is no "happiness plateau."
In the U.S., however, the researchers found that income inequality acts as "a tax on happiness." Although a nation's economic growth generally results in overall increased happiness, unequal access to that wealth undermines across-the-board experience of improved well-being. And so, although the U.S. economy has doubled in size since the early 1970s, self-reported happiness has declined.
-Noel Brinkerhhoff, Danny Biederman
To Learn More:
Yes, Money Does Buy Happiness: 6 Lessons from the Newest Research on Income and Well-Being (by Derek Thompson, The Atlantic)
The New Stylized Facts about Income and Subjective Well-Being (by D.W. Sacks, B. Stevenson, and J. Wolfers, PubMed, National Center for Biotechnology Information)