"Mile High" Stadium Takes on New Meaning in Denver
Tuesday, September 09, 2014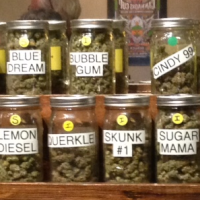 Organic marijuana dispensary in Fort Collins, Colorado (photo: David wallechinsky)
Tailgating at Denver Broncos' games has taken on a more hazy, if not colorful quality since the state of Colorado legalized recreational marijuana use.
Walking through the parking lot of Mile High Stadium, the name already in place because of the city's altitude, reveals a different side of some fans lighting it up before kickoff, Michael Powell wrote at The New York Times.
"Herbaceous tailgating, truth be told, is in its infancy. The Mile High Cannabis dispensary stands across the street from the stadium, and watching its game-day traffic of orange-clad customers calls to mind the week leading up to Christmas," Powell found.
Talking to Erin Catalano, a "budtender" at the dispensary, Powell was told: "We're glad to do our part in getting people amped for the game."
Despite the growing popularity of pre-game toking, the Broncos organization is not yet ready to endorse this newer side of Sunday ritual. "Any form of marijuana consumption is prohibited on Sports Authority Field at Mile High property during public events, including in stadium parking lots," the team's website states, according to Powell. Colorado law specifies that recreational marijuana use is legal only in locations not open or accessible to the public.
While the fans are lighting up, NFL players are forbidden to do so by the terms of their collective bargaining agreement. A first positive test for a very small amount of marijuana in a player's system results in referral to the league's drug program. A second positive test results in a four-game suspension. This policy might change in the future if the NFL players union, the NFL Players Association (NFLPA), succeeds in convincing team owners and the league to go easier on marijuana use.
NFLPA President Eric Winston pointed out that anyone near others smoking marijuana could wind up testing positive because of the NFL's low threshold for the drug. "The (potency) level is so much greater in marijuana now, the second-hand smoke can get a positive test," Winston told the AP. "Just a guy who is around it second hand, then to have to go into the program?"
An informal survey of NFL players by ESPN revealed that 75% agreed with President Barack Obama's public stance that pot is not more dangerous than alcohol.
-Noel Brinkerhoff, Steve Straehley
To Learn More:
Football's in the Air, and in Denver, So Is the Sweet Smell of Herb (by Michael Powell, New York Times)
Union Says NFL Wants DUI Policy Change (by Barry Wilner, Associated Press)
NFL Player Poll: Pot not as Dangerous (by Rob Demovsky, ESPN)