Many Fire Departments Spend more Time Tending to Homeless than Fighting Fires
Tuesday, September 01, 2015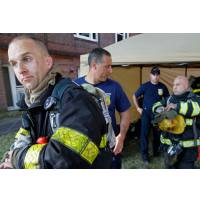 (AP photo)
Engine 1 of the San Francisco Fire Department won the honor in 2014 of being the busiest engine in the entire country, according to a nationwide survey by Firehouse Magazine. But who would have guessed that it rarely fights fires. In fact, most of its calls are devoted to helping the homeless.
Engine 1, based at Fire Station 1 in San Francisco's South of Market area, made 10,221 runs last year—far and away more than the second-place Engine 33 in Los Angeles, with 8,880 runs, The New York Times reported. But only 1.5% of Engine 1's calls in 2014 had to do with fires. The majority of its time was spent going on calls to help homeless people, including those struggling with mental illness or substance abuse.
The entire San Francisco Fire Department responded to more than 136,000 incidents in 2014, but only 28,000 of them involved fires and other nonmedical calls.
"In San Francisco and other cities, as homeless populations swell and emergency services are pushed to the limit, the question of how to provide housing for the growing ranks of street people — or whether to even bother trying — is a contentious debate," the Times' Sarah Maslin Nir wrote.
Some of the calls that are the most dispiriting are when they are called to the same homeless person repeatedly—sometimes as much as 20 times—in a single day.
And then there are the cases when, sadly, firefighters do just the opposite of helping the homeless. In Everett, Washington, a crew got tired of helping the same drunken man over and over again—well over 100 times—and decided to drive him miles outside of town and leave him under a bridge with some water on an 83-degree day in July. When the incident came to light, the punishment to the crew was merely a letter of reprimand and an in-person admonishment.
-Noel Brinkerhoff
To Learn More:
San Francisco Firefighters Become Unintended Safety Net for the Homeless (by Sarah Maslin Nir, New York Times)
San Francisco Firefighters Swamped With Non-Emergency Medical Calls (by Joe Vazquez, KPIX)
Everett Firefighters Drove Drunken Man Nearly To Marysville, Left Him (by Rikki King, HeraldNet)