Man Who Built Gun Range in His Backyard is No Match for Up-in-Arms Neighbors
Friday, February 06, 2015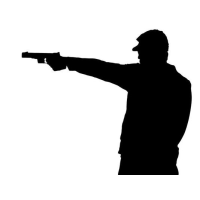 (AP photo)
Joseph Carannante of St. Petersburg, Florida, thought it was reasonable to build a firing range in his backyard so he could shoot his handgun. His neighbors disagreed, and Carannante has backed off his plan.
It's good that peer pressure caused the ad-hoc firing range to come down, because Florida has a law that says municipalities can't stop such a thing. "My first reaction to one of these cases was, 'Heck no, that can't be right. That has to be unlawful,'" Pinellas County Sheriff Bob Gualtieri told the Tampa Bay Times. "After researching it, we realized, 'Sheesh, it really is legal.'"
Carannante said he couldn't afford the $20 cost of going to a gun range to shoot. So he stacked wooden pallets, cinder blocks, sand and dirt in his yard but never used the "range" before the neighbors objected.
"My intentions were never to instill fear in my neighbors. Never my intention at all," Carannante told Fox News.
St. Petersburg has no law on the books banning residents from firing their guns on their property because a state law adopted in 2011 bars local communities from imposing gun control measures.
"The whole thing is covered by state statute, so we have to follow the law there," Yolanda Fernandez, a spokeswoman for the St. Petersburg police department, told Fox News. "It's legal to fire in your backyard as long as you don't do so in a reckless or negligent manner."
Fernandez added: "We don't think it's a good idea in a residential neighborhood to set up a shooting range in your backyard."
Pinellas County Commissioner Ken Welch, who lives a few houses away, agreed. "It's beyond ludicrous. It is not a gun range in any sense of the word. It's a couple of boxes with sand inside. Any error, any ricochet is going to get someone killed. It's insanity."
Carannante will now go to local firing ranges after a hospital and a radio host provided him with year-long passes.
-Noel Brinkerhoff
To Learn More:
Florida Man Takes Down Backyard Gun Range After Outcry (by Karl de Vries, Fox News)
Backyard Gun Ranges — A Dumb Idea Brought to You by Your Legislature (by John Romano, Tampa Bay Times)
Backyard Gun Range Concerns St. Pete Neighbors (by Charles Billi, WTSP News)