Lucille Ball Lovers Demand Removal of Appalling Statue of Lucy in New York Town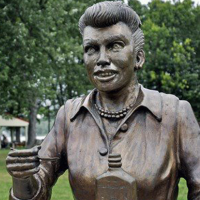 (photo: Facebook)
Six years ago, the town of Celoron, New York, tried to do something nice to commemorate comedian Lucille Ball, who spent years growing up there. But a bronze "lifelike" statue erected in a local park turned out to look nothing at all like Ball, which is why some local citizens have launched a campaign to take it down.
The problem, critics say, is the face. It features jagged teeth and what some say is a crazed expression, prompting comparisons to everything from zombies and "The Creature from the Black Lagoon" to Yoda, Joseph Stalin, and actor Steve Buscemi.
The statue was created by New York State artist Dave Poulin at the behest of locals Jetta and Mark Wilson as part of a complex real estate deal. It portrays Lucy standing with a spoon and medicine bottle, modeled after the actress's appearance in an acclaimed "I Love Lucy" episode in which she performs in a TV commercial and accidentally becomes intoxicated by repeatedly sampling a vitamin tonic.
Many local leaders, including town Mayor Scott Schrecengost, are unhappy with the statue. But they refuse to spend any tax dollars on fixing or replacing it. Poulin has quoted a fee of $8,000 to $10,000 to re-sculpt Lucy's head, but Schrecengost says he should fix the sculpture for free.
"If he's the artist and the sculptor, you would think he would take some pride in his work and say, 'Yeah, that's probably not up to par and I should make it right,'" Schrecengost told The Buffalo News. "But his last statement to me was, 'If nobody likes it and we don't like it, just take it down and put it in storage.'"
One unidentified resident created a Facebook page ("We Love Lucy! Get Rid of this Statue") dedicated to bringing down the unpopular creation.
Even the Wilsons, who commissioned the statue as a way of honoring Lucy, don't like what Poulin created. One town citizen took matters into his own hands by applying putty to the sculpture's eyes and mouth to try to make Lucy's face less scary looking. Another suggested an easy solution: place a bag over her head.
Poulin—who has created 120 commissioned sculptures, including 9/11 and Korean War memorials—has not responded to media requests for comment.
-Noel Brinkerhoff, Danny Biederman
To Learn More:
In Tiny Celoron, an Ugly Lucille Ball Sculpture Spurs Huge Debate (by Colin Dabkowski, Buffalo News)
'We Can Do Better Than This Monster!' New York Town Bands Together To Destroy 'Hideous' Statue of Lucille Ball (by Tristan Hopper, National Post)
We Love Lucy! Get Rid of this Statue (Facebook)