Loneliness and Too Much TV are Bad for the Brains of the Elderly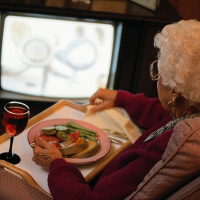 (photo: Getty Images)
New studies show that older people who spend too much time by themselves or watch a lot of television may be more at risk of developing dementia.
Researchers at Brigham and Women's Hospital and Harvard Medical School tracked 8,311 adults (65 and older) in the U.S. Health and Retirement Study from 1998 to 2010 and found the loneliest people (about one out of six participants) experienced the swiftest decline in cognitive performance. Their scores in the area of brain skills and function dropped 20% more quickly than individuals who reported no feelings of loneliness.
"Loneliness is a form of suffering in older people that is prevalent but undetected and untreated in medical practice," associate professor Nancy J. Donovan, one of the study's researchers, told The Washington Post. "Second, loneliness has consequences. Our work shows that loneliness, like depression, is associated with accelerated cognitive decline in older Americans. This finding is important because it opens up new approaches for preventing and treating Alzheimer's disease."
Another group of researchers, based at the Northern California Institute for Research and Education in San Francisco, found watching too much TV might also lower cognitive function. Their analysis of people who watch four or more hours of television a day showed they had a 1.5% higher risk of performing worse on cognitive tests compared with those who watched less television.
Kristine Yaffe, a professor of psychiatry, neurology and epidemiology at the University of California in San Francisco, told the Post that the results also indicated that it's not too late for people to reduce their risk of developing Alzheimer's and dementia if they change their lifestyle habits. "What's happening at one's midlife is setting the stage for what's happening over the next 20 or 30 years," she said.
It is anticipated that more than 28 million Baby Boomers will develop Alzheimer's by 2050, up from more than five million now. For the Medicare program, the cost of this increase in Alzheimer's patients is expected to consume 24% of its budget by 2040, a huge increase from the 2.1% projected for 2020.
-Noel Brinkerhoff, Danny Biederman
To Learn More:
Childhood School Performance and Type 1 Diabetes Identified as Risk Factors for Alzheimer's Disease, Dementia (Alzheimer's Association) (pdf)
Too Much TV Could Raise The Risk Of Alzheimer's, Study Suggests (by Fredrick Kunkle, Washington Post)
Is Risk of Alzheimer's Increased by Excess Cleanliness? (by Noel Brinkerhoff, AllGov)