Latest in 3-D Printing: High-Quality Skeleton Keys
Thursday, August 28, 2014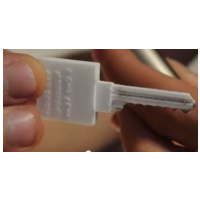 (photo: YouTube)
The marvel of 3-D printers, which can make a variety of objects out of hunks of plastic, is proving to be a nightmare for those trying to keep things locked up.
Duplicate keys that open high-security locks can now be made by anyone, thanks to 3-D printers. And they can do so without even having the original key to work from, according to Wired's Andy Greenberg. With just photographs of keyholes on hand, experts can create "bump" keys that can open "millions of locks with a carefully practiced rap on its head with a hammer," Greenberg reports.
Jos Weyers and Christian Holler, who developed the software to make the keys, say they're not doing it for the benefit of thieves, but so locksmiths and security experts will be aware of the potential for abuse of the printers. "It's a kind of false sense of security," Holler told Wired. "If a protected profile is your only protection, you should be aware that's no longer enough."
People don't even need their own 3-D printer to make a bump key, thanks to printing services such as Shapeways or i.Materialise that will make keys, no questions asked.
The nefarious use of 3-D printers was first reported by Greenberg two years ago when he pointed out that the technology could be employed to make keys that will unlock high-security handcuffs.
-Noel Brinkerhoff, Steve Straehley
To Learn More:
These 3-D Printed Skeleton Keys Can Pick High-Security Locks in Seconds (by Andy Greenberg, Wired)
Hacker Opens High Security Handcuffs with 3D-Printed and Laser-Cut Keys (by Andy Greenberg, Forbes)