John Boehner's Congressional District will be without a Replacement for 220 Days…Longest for any District in 46 Years
Wednesday, November 18, 2015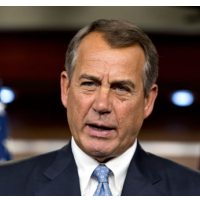 John Boehner (AP photo)
Voters in Ohio's 8th Congressional District not only are no longer represented by the Speaker of the House, they're not represented by anyone at all, and they'll wait 220 days to find out who their next congressman is.
John Boehner resigned his seat effective October 31. Republican Ohio Governor John Kasich announced a special election will be held to fill the opening, but the election won't take place until June 7, 2016.
That means residents of CD 8 will go 220 days without someone representing them in Congress, marking the longest such stretch for a congressional district since 1969. The delay is "nearly without precedent over the last half-century," according to Eric Ostermeier at Smart Politics.
The 220-day vacancy will be "more than twice as long as the average vacancy among the 219 to occur in the chamber since 1965 and the second longest of the 123 vacancies to fall outside of an election year," Ostermeier added.
It will not be the longest vacancy since the 1960s, however. That distinction still belongs to Illinois' 6th district, which went 447 days without a congressman after three-term Democrat Daniel Ronan died in August 1969.
"Recently elected GOP Governor Richard Ogilvie subsequently announced he would not call for a special election to fill the state's 6th CD seat stating that it would be too expensive to do so," Ostermeier wrote.
No matter how long it takes to fill Boehner's seat, one thing appears to be certain. "This is a very safe Republican seat," Dan Tokaji, an Ohio State University professor considered an authority on election law and voting rights, told the Cincinnati Enquirer. "A Republican will win the general election – and I say that without any doubts whatsoever."
-Noel Brinkerhoff, Steve Straehley
To Learn More:
Mind the Gap: Boehner Seat Has Longest Non-Election Year Vacancy in 46 Years (by Dr. Eric Ostermeier, Smart Politics, University of Minnesota)
Boehner Resignation Leads to Election Oddity (by Keith BieryGolick, Cincinnati Enquirer)