Is This the Worst Small-Town Police Force in the U.S.?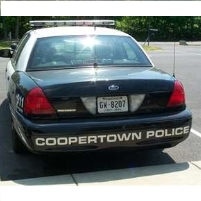 (AP Photo)
It has been a bad month for the police department of
Coopertown
, Tennessee (pop.: 4,278), about 30 miles northwest of Nashville. At the beginning of August, police
dash cam video
(at 6:00) from May 16 of white volunteer officer Robert McCormick using anti-black racist slurs in reference to the sex life of Mayor Sam Childs, who is white, and referring to an African-American man who had lodged a complaint against McCormick, ignited a furor. McCormick, whose punishment had been limited to a one-day suspension, was fired.
The video was leaked by the town's only other full-time officer, David Deckerd, only days after his July 31 termination. Coopertown says Deckerd was fired because on July 21 he was accused of pulling a gun during an off-duty road rage incident. Deckerd counters that his firing was retaliation for uncovering the video. The last remaining Coopertown police officer, Police Chief Paul West, resigned on August 16, in response to what Mayor Childs called "predatory reporting" by the media.
None of this is really new to the people of Coopertown, which has had ten police chiefs in the last eleven years. The trouble seems to have started under Police Chief Matthew Norrod, who was fired in 2000 and convicted in 2001 of theft, admitting in court that he stole $2,120 from a suspect during an arrest. In May 2007, Chief Dave Barrera was dismissed over the hiring of his wife by the department. Over the past several years, the city has been sued at least five times for unlawful termination of police employees. Three settled for an undisclosed amount of money, one case was dismissed, and another cost taxpayers $90,000 after a jury verdict.
Other lowlights include the 11-month tenure (May 2005-Apr. 2006) of Chief E.J. Bernard, a homicide detective who left the Nashville Police Dept. amid an internal inquiry that concluded he had filed false reports and intimidated and berated a dead woman's son whom he wrongly suspected of murder. Bernard resigned shortly after testifying—in a
corruption case
brought by local prosecutors—that Coopertown Mayor Danny Crosby was dangerous and irrational, used racial slurs, called drunk driving a crime that doesn't "generate revenue and should be ignored," and contended that many residents were out to get him. Crosby, who once tried to change local speed limits on his own, got the town council to change them and earned Coopertown a reputation as a speed trap.
Ironically, when the people of Coopertown voted 16 years ago to transform their sprawling rural community into an incorporated city, they did so as a way to prevent Robertson County officials from locating a new landfill in their midst. They stopped the trash dump, but have been plagued ever since by odors of corruption and incompetence emanating from City Hall and police headquarters.
The town will be patrolled by the Robertson County Sheriff's Office until new police officers can be hired. Anyone interested in the $16 an hour job has until September 6 to apply
here
.
-Matt Bewig
To Learn More: