Iowa House Set for First Wiccan Invocation in a State Legislature
Wednesday, April 01, 2015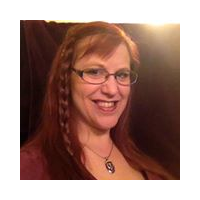 Deborah Maynard (photo: Faceboook)
Iowa's legislature is preparing to receive its first invocation by a Wiccan priestess.
Deborah Maynard will deliver the invocation early this month before the Iowa House of Representatives, marking a first for the legislative body. Maynard was asked to appear before lawmakers by her representative, Liz Bennett, a Democrat from Linn County, who was looking for someone different to give the invocation. It's believed to be the first time a Wicca invocation has been delivered to a state legislature.
Bennett has drawn criticism for the selection of Maynard. "I am honestly surprised that this has become a bit of a media frenzy. We do have a prayer every day in front of the body and different representatives invite different constituents from their districts, difference types of pastors from dominations. So, I am a little bit surprised that it has become as controversial as it has," Bennett told KCCI.
Last year in Huntsville, Alabama, the city council allowed a local Wiccan priest, Blake Kirk, to pray before the meeting.
Wicca is a religion, or lifestyle as some followers prefer, in which the Earth, gods and goddesses are worshipped.
-Noel Brinkerhoff
To Learn More:
Lawmaker Talks Wiccan Priestess Invocation Offer (by Marcus McIntosh, KCCI)
Wiccan To Deliver Invocation To House Of Representatives (by Kim St. Onge, KCCI)
Alabama Town Council Opens With Wicca Invocation (by Brian Fraga, Aleteia)
Court Gives Wiccans a Chance at Getting Chaplains in Prison (by Ken Broder, AllGov)