Increasingly Polarizing Political Rhetoric Turns More Millennials into Independent Voters
Friday, September 09, 2016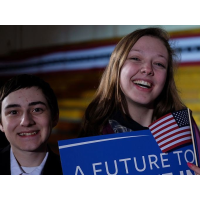 (photo: Jewel Samad, AFP/Getty)
By Sean Duffy, Courthouse News Service
SAN DIEGO (CN) — As political rhetoric becomes more polarizing — particularly in the current election cycle — millennials are becoming more politically independent. But that doesn't mean they are politically moderate.
In findings presented Wednesday, a team of researchers examined data from three larger, nationally representative surveys of young people in the United States showing that 46 percent of adults identified as political independents — including 59 percent of 18- to 19-year-old millennials.
Both of these numbers are all-time highs, according to the team.
"Americans, especially young people, are abandoning the two major political parties to declare themselves politically independent," lead author Jean Twenge said. "In an increasingly individualistic culture, large groups such as political parties are less popular."
Twenge is a professor at San Diego State University and the author of "Generation Me," which analyzes young adults born in the 1970s through the 1990s.
The team's work was published in the journal Personality and Social Psychology Bulletin.
While young people identify less with political parties nowadays, they are also more politically polarized than their parents: The numbers of adults describing themselves as either extremely liberal or conservative doubled in the 2010s when compared to adults in the early 1970s.
On the other hand, young adults who do identify with one of the two major political parties in the United States are more uniform in their beliefs. While there were individuals who leaned more liberal or conservative in both parties, currently the vast majority of young adults who identify as Republicans tout conservative views and Democrats hold liberal ones.
The study found that more young adults are open to conservative ideology. High school seniors in this decade are 38 percent more likely to identify as conservative than their age-matched peers in the 1970s.
Twenge said this is surprising since these same young people generally disagree with many traditional conservative viewpoints, which may indicate a potential overhaul or adjustment to the definition of conservatism.
"Given young people's support for same-sex marriage and legalizing marijuana, it's surprising that more now identify as political conservatives. It may be that the definition of what they consider conservative is changing," she said. "Overall, millennials may not be as reliably liberal and Democrat as many had predicted, especially as they are likely to grow more conservative as they get older."
To Learn More:
More Polarized but More Independent: Political Party Identification and Ideological Self-Categorization among U.S. Adults, College Students, and Late Adolescents, 1970-2015 (by Jean M. Twenge, Nathan Honeycutt, Radmila Prislin, Ryne A. Sherman, Society for Personality and Social Psychology) (abstract)
Generation Change: Millennials now Outnumber Baby Boomers…and Their Politics are Different (by Steve Straehley, AllGov)