In a Twist, Activists Try to Stop Industrial Firm from Dropping Lawsuit against Them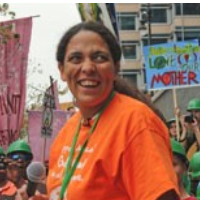 Cherri Foytlin (photo: Karen Savage for Bridge the Gulf)
By Barry Meier, New York Times
Dennis Paustenbach, a top consultant to companies facing lawsuits over products or environmental practices, has long been eager to put a stop to accusations that his company, ChemRisk, slanted scientific findings to suit its clients.
The company's most recent target was two activists who wrote an article raising questions about it for The Huffington Post. ChemRisk sued them for libel, first in New York, where the case was thrown out, and then in Massachusetts.
But now the tables have turned. Paustenbach and ChemRisk are trying to drop the lawsuit in Massachusetts. And the writers, Cherri Foytlin and Karen Savage, are saying, not so fast.
In a recent filing, Foytlin and Savage argued that ChemRisk, a unit of Cardno ChemRisk, should not be allowed simply to withdraw its lawsuit. Instead, they say the company should pay their lawyers, who have represented them on a pro bono basis, and issue an apology for dragging them through years of litigation.
"ChemRisk knows that Karen and Cherri will not be intimidated and will prevail if ChemRisk continues the action," said one of their lawyers, John H. Reichman.
Paustenbach did not respond to a request to be interviewed. In a statement published on the ChemRisk website, the company stated it wanted to drop its case "solely on business grounds."
"We maintain the article made false and disparaging claims against the company," ChemRisk said, adding that continuing the lawsuit would have required "substantial investment in both capital and time."
Paustenbach has worked as an expert witness for scores of companies in the chemical, energy and medical products industries. In their article, Foytlin and Savage raised questions about a 2011 ChemRisk study that found no link between chemicals released during the 2010 explosion of the Deepwater Horizon oil rig in the Gulf of Mexico, and health problems reported by cleanup workers.
"As it turns out, ChemRisk has a long, and on at least one occasion fraudulent, history of defending big polluters, using questionable ethics to help their clients avoid legal responsibility for their actions," the article stated.
The company demanded that Foytlin and Savage correct or retract the article. But the two women refused and pointed out that ChemRisk had not sued other publications, such as The Wall Street Journal, that had also questioned the company's actions.
The two originally filed a motion asking a judge to throw out ChemRisk's claim under a Massachusetts law intended to protect activists from lawsuits meant to intimidate them or stifle public speech. A judge rejected their request, but Massachusetts' highest court recently agreed to review that decision.
Days later, ChemRisk filed papers seeking to drop its libel claims. That is when the women filed a motion that the company should not be able to drop the case.
Paustenbach may face consequences from the company's decision to withdraw its libel action, if he takes the witness stand.
"This matter and its adverse result could likely hurt his credibility," Daniel Byron, a lawyer in Indianapolis who specializes in media and First Amendment law, said in an email.
To Learn More:
Cardno ChemRisk v. Cherri Foytlin and Karen Savage (Supreme Court of the State of New York, County of New York)
ChemRisk, BP and Purple Strategies: A Tangled Web of Not-So-Independent Science (by Cherri Foytlin and Karen Savage, Huffington Post)