Improved Economy Leads to more Gridlock as D.C. Passes Los Angeles for Worst Traffic
Thursday, August 27, 2015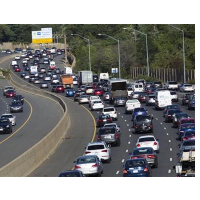 Washington's Beltway (AP photo)
A stronger economy with more employment means more people driving on city streets, according to a transportation report from INRIX and the Texas A&M Transportation Institute.
The report (pdf) says the U.S. economy has regained nearly all of the 9 million jobs lost during the Great Recession, and that has helped push traffic congestion back to pre-downturn levels.
The worst of the worst is in Washington, D.C., ranked as the most gridlocked city in the U.S. D.C. had an average of 82 hours of delay per commuter, followed by Los Angeles (80 hours), San Francisco (78 hours), New York (74 hours), and San Jose (67 hours). Los Angeles also has six of the top 10 worst roads, according to the report. The other four are in New York and Chicago, each with two.
According to the study, 95 of America's 100 largest metro areas saw increased traffic congestion from 2013 to 2014, while from 2012 to 2013 only 61 cities experienced increases. Researchers also found that to reliably arrive on time for important freeway trips, travelers had to allow 48 minutes to make a trip that takes 20 minutes in light traffic.
The study says "travel delays due to traffic congestion caused drivers to waste more than 3 billion gallons of fuel and kept travelers stuck in their cars for nearly 7 billion extra hours – 42 hours per rush-hour commuter. The total nationwide price tag: $160 billion, or $960 per commuter."
Researchers recommended several partial solutions to the problem, including adding capacity, changing usage patterns and, probably most important of all, have realistic expectations of what traffic's going to be like in a given area.
-Noel Brinkerhoff, Steve Straehley
To Learn More:
Traffic Gridlock Sets New Records for Traveler Misery (Texas A&M Transportation Institute and INRIX)
2015 Urban Mobility Scorecard (Texas A&M Transportation Institute and INRIX) (pdf)
Los Angeles Is World's First Major City to Sync up All of Its Traffic Signals (by Ken Broder, AllGov California)