Immigrants Help Millennials Edge out Baby Boomers as Nation's Largest Living Generation
Wednesday, January 21, 2015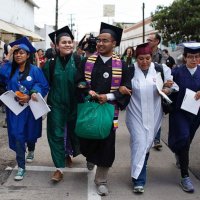 (photo: Samantha Sais, AP)
Move over Baby Boomers, there's a new generational leader on the stage: Millennials.
With the help of young immigrants, the Millennial generation will become the largest demographic cohort this year, according to the Pew Research Center.
Millennials continue to grow in number, even though the generation was born from 1981 to 1997, thanks to the continuing flow of immigrants, particularly younger foreign residents, into the country.
The generation's numbers will reach more than 75 million this year, surpassing the 74.9 million of Boomers, whose totals will continue to shrink as more die off in the coming years. The Millennial population won't peak for another 21 years, when it will reach 81.1 million by 2036.
Lost in the shuffle is Generation X, also known as the Middle Child Generation. That demographic covers only those born from 1965 to 1980, so with a shorter period of time assigned to that cohort, they'll never be as large of a group as either the Boomers or Millennials.
-Noel Brinkerhoff
To Learn More:
This Year, Millennials Will Overtake Baby Boomers (by Richard Fry, Pew Research)
Millennials Set to Outnumber Baby Boomers (by Douglas Quenqua, New York Times)
Millennial Generation is Bigger, More Diverse than Boomers (CNN Money)
U.S. Population Gets Older…Except in 7 States (by Noel Brinkerhoff, AllGov)