House Republicans Pledge No Food Stamps for Millionaires
Wednesday, December 14, 2011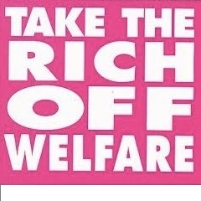 (book by Mark Zepzauer and Arthur Naiman)
Here's a problem most Americans probably weren't worried about. In an effort to show the U.S. public they're serious about getting tough on the rich, Republicans in Congress are proposing to end food stamps for millionaires.
But the plan immediately raised the question: do millionaires really collect food stamps?
The New York Times reported that "millionaires on food stamps are about as rare as petunias in January."
Fortunately, the GOP and their Democratic allies aren't stopping at food stamps.
They also want to ban anyone making $1 million or more a year from collecting unemployment benefits. This has occurred more frequently than receiving food stamps, according to Republican Senator Tom Coburn of Oklahoma.
Using data from the
Internal Revenue Service
, Coburn and his counterpart, Democrat Mark Udall of Colorado, found millionaires collected more than $74 million in unemployment checks from 2005 to 2009.
Both the food stamps and unemployment insurance proposals have been offered by the GOP as a means to pay for extending the payroll tax cut for the middle class, which is set to expire at the end of this month.
-Noel Brinkerhoff
U.S. Gives Millionaires $30 Billion a Year in Tax Breaks and Payments (by Noel Brinkerhoff and David Wallechinsky, AllGov)