Gun Deaths Match Motor Vehicle Deaths for First Time in at least 60 Years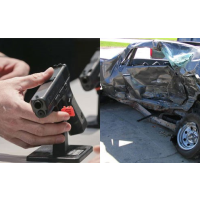 (photos: AP; Google Images/ITAR/TASS)
For the first time in 60 years, firearms are just as big a killer as automobiles in the United States, according to data from the Centers for Disease Control and Prevention (CDC).
Both cars and guns killed Americans at the same rate in 2014: 10.3 fatalities per 100,000 people.
Firearm related deaths included homicides, suicides and accidental deaths, while motor vehicle deaths resulted from car crashes, collisions between cars, and pedestrian struck by autos.
Christopher Ingraham at The Washington Post reported that auto deaths have been dropping since the 1960s, while gun deaths have erratically gone up over time.
"In the late 1960s, for instance, there were well over 25 motor vehicle deaths for every 100,000 people in the United States. Since then, that rate has fallen by more than half," Ingraham wrote. "Over the same period, gun deaths rose, but by a considerably smaller amount. Gun homicide rates have actually fallen in recent years, but those gains have been offset by rising gun suicide rates. Today, suicides account for roughly two out of every three gun deaths."
He also noted that at the state level gun deaths have been outpacing car deaths in many locations over the past decade. "In 2005, gun deaths outnumbered vehicle deaths in just two states, Alaska and Maryland, plus the District of Columbia. By 2014, gun deaths were greater in 21 states plus D.C.," he wrote.
-Noel Brinkerhoff
To Learn More:
Guns are Now Killing as Many People as Cars in the U.S. (by Christopher Ingraham, Washington Post)
12 States Have more Gun Deaths than Motor Vehicle Deaths (by Noel Brinkerhoff, AllGov)
More Americans Now Die from Suicide than from Auto Accidents (by Noel Brinkerhoff, AllGov)