Golfer Sues Resort after Alligator Eats His Arm
Saturday, January 22, 2011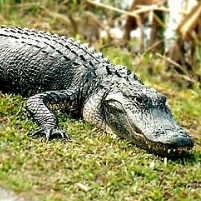 When playing golf, there are water hazards and then there are real water hazards.
While bending down near the 11th hole, which sat adjacent to a dark brackish pond, the 77-year-old Wiencek was attacked by a 10-foot, 400-pound alligator that suddenly appeared, clamped onto his right arm and dragged him into the water. While struggling to free himself, he lost part of his arm, which was torn away at the elbow.
After being helped ashore by his son, Wiencek was taken to a nearby hospital and then flown to the Medical University of South Carolina in Charleston. Wildlife officials hunted down the 'gator, killed it and removed the arm from its belly. Doctors then attempted to reattach the limb. It is unclear whether or not they succeeded. However, Wiencek's lawsuit states that he was left with a "partial disability."
Wiencek is now suing Fripp Island Resort, claiming the company had been warned before the attack about "the presence of large, wild, dangerous, and aggressive alligators" at the course, but failed to inform the plaintiff of the potential danger.
Fripp Island Resort advises golfers who plan to play their Ocean Creek course that, "You may want to pack your camera in your golf bag, as the course is home to a wondrous variety of wildlife including egrets, osprey, herons, and deer." No mention is made in their course promotional material about other, less charming examples of wildlife.
-Noel Brinkerhoff, David Wallechinsky