German Group Offers Support Services to Help Disillusioned Members of NSA Get Out of the Spy Business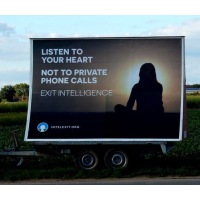 An Intelexit billboard near NSA's Dagger Complex, Germany (photo: Intelexit)
Members of the American and British intelligence communities who want to leave the spook business can now turn to a group of anti-surveillance advocates who want to help.
The newly formed German-based Intelexit has launched a PR campaign to lure employees of the National Security Agency and the British GCHQ "in from the cold" and to stop spying.
Intelexit has put up billboards outside offices run by both agencies to let their employees know they're here to help. "Listen to your heart, not to private phone calls," reads a sign next to the Dagger Complex, a military base and NSA outpost in Darmstadt, Germany.
Those serving at GCHQ's Cheltenham headquarters can expect to see the message: "The intelligence community needs a backdoor," which makes fun of NSA and GCHQ's efforts to unscramble encrypted communications.
Intelexit has also handed out fliers outside the NSA's Fort Meade, Maryland, headquarters.
The information will tell employees where they can get support and counseling if they choose to leave the agency.
"We know for a fact that there are many, many people working there who are conflicted, anxious and ultimately completely against what these agencies are doing," Ariel Fischer, a pseudonymous spokesperson for Intelexit, told Wired. "If more of those individuals start realizing that they can take a stand, and that they have support from the outside world, well, then maybe a few people will be compelled to act on their principles."
So far, there's been little interest in Intelexit's message. "There was not a lot of reaction," photographer Ben Grad, who accompanied those setting up outside the NSA, said.
-Noel Brinkerhoff
To Learn More:
This New Campaign Wants to Help Surveillance Agents Quit NSA or GCHQ (by Andy Greenberg, Wired)
These German Artists Tried to Persuade NSA Employees to Quit (by Julia Smirnova, Washington Post)
Help for Troubled Spies - How to Leave Intelligence Agencies (by Ben Knight, Deutsche Welle)
Federal Judge Orders Investigation of Accusations that Pentagon Inspector General Destroyed Documents in Whistleblower Case (by Noel Brinkerhoff and Danny Biederman, AllGov)