Georgia Republicans Approve Anti-Gay Bill while Democrat Takes a Toilet Break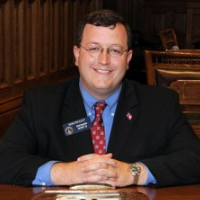 Senator Josh McKoon (photo: Georgia Senate)
If at first you don't succeed, try, try again … like when your opponent has gone to the bathroom.
That was the case in the Georgia Legislature, where a Democratic lawmaker, Vincent Fort, had tied up a Republican religious liberty bill that opponents say will legalize discrimination against homosexuals and others.
When SB 129 came up last week in the Senate Judiciary Committee, Fort tabled the legislation to keep the GOP majority from approving it.
This week, the Judiciary Committee met again.
Fort, however, really needed to use the restroom. He told Republican committee chairman Josh McKoon that he was stepping out for a bathroom break and asked him to put committee work on hold until he got back. McKoon agreed. But as soon as Fort left, the Republicans—the only lawmakers in the room at the time—hurriedly brought the bill back up for a vote. A committee staffer quickly alerted absent Democratic senators of what was happening, and they raced to the committee room to prevent the vote but were too late. The committee had already passed the bill before they got there and before Fort's return from the restroom.
"When I got back, it was gone," Fort told the Atlanta Constitution Journal. "[McKoon] knew I was going to come back. It seems to me the right thing would have been to delay the vote until all the members who had appeared at the committee were in the room."
Critics of the legislation include former Georgia Attorney General Michael Bowers, a previous supporter of anti-gay policies, who has said the proposed law is "nothing but an excuse to discriminate."
-Noel Brinkerhoff, Danny Biederman
To Learn More:
'Religious Liberty' Bill Passes During A Bathroom Break (by Daniel Malloy and Greg Bluestein, Atlanta Journal Constitution)
Georgia 'License To Discriminate' Bill Forced Through Committee During Bathroom Break (by Jack Jenkins, Think Progress)