Georgia Claims its Laws are Copyrighted and Publishing them is an Act of Terrorism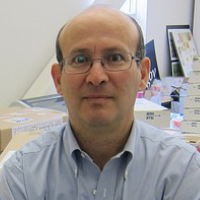 Carl Malamud (photo: public.resource.org)
The State of Georgia has played the terrorist card in response to a threat from a lone actor—who wants to make the text of that state's laws freely available to all.
Carl Malamud has made it his life's work to ensure that the nation's laws are available to anyone. His website, public.resource.org, is a go-to resource where federal and state laws may be accessed for free. It's this effort that the state of Georgia has labeled a terrorist act.
Malamud's site gives access to the state's Official Code of Georgia Annotated (O.C.G.A). The state is suing in federal court to block the access, claiming that the annotations attached to the law are protected by copyright. "The copyrighted annotations include analysis and guidance that are added to the O.C.G.A. by a third party publisher of the O.C.G.A. as a work for hire. These annotations include synopses of cases that interpret the O.C.G.A., summaries of Opinions of the Attorney General of Georgia, and summaries of research references related to the O.C.G.A. Each of these annotations is an original and creative work of authorship that is protected by copyrights owned by the State of Georgia," according to Georgia's petition (pdf).
Georgia farms out the publishing of its laws to Lexis-Nexis, which writes annotations and then assigns the copyright for them back to the state. Lexis-Nexis then charges for access to the laws, something that Malamud says should be available for free to the taxpayers who paid for the laws in the first place. The state in its suit calls the annotations "valuable analysis and guidance regarding their state laws."
The terrorism charge comes from a book Malamud wrote 20 years ago, using it in a joking way to describe his efforts to make the law available to all. Now Georgia is using that phrase, used originally in jest, against him, putting Malamud on a par with Osama bin Laden.
In general, public laws are not subject to copyright protection, according to Mike Masnick of Techdirt. "Edicts of government, such as judicial opinions, administrative rulings, legislative enactments, public ordinances, and similar official legal documents are not copyrightable for reasons of public policy. This applies to such works whether they are Federal, State, or local as well as to those of foreign governments," the U.S. Copyright Office says. A court will decide whether the O.C.G.A., which the state itself says is essential to understanding its laws, fits under that policy.
-Steve Straehley
To Learn More:
Georgia Claims That Publishing Its State Laws for Free Online Is 'Terrorism' (by Michael Hiltzik, Los Angeles Times)
Even If The State Of Georgia Can Copyright Legal Annotations, Should It? (by Mike Masnick, Techdirt)