Gay U.S. Ambassador to Denmark Marries his Partner
Tuesday, October 20, 2015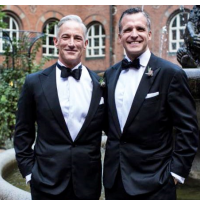 U.S. Ambassador Rufus Gifford (R) and husband Stephen DeVincent (photo: Rasmus Flindt Pedersen, Polfoto via AP)
The U.S. ambassador to Denmark, Rufus Gifford, married his longtime partner, Stephen DeVincent, earlier this month at Copenhagen City Hall, site of the first same-sex marriage 26 years ago.
Gifford told the media that they chose this location as an "homage" to the historic event and "the journey that the whole world has gone on on this issue."
The wedding garnered considerable attention on social media, receiving 55,000 likes on Facebook, and a personal note of congratulations from President Barack Obama.
Gifford told The Washington Post he was "completely overwhelmed by the press coverage both here and in the states" about his marriage. "It's an issue that's still challenging for people and I will continue to be honest about who I am and tell the story," he added.
He told The Daily Beast that coming out as a teenager was challenging, but that his life has changed completely since then.
"I came out when I was 18, in my freshmen year at Brown University. It was a huge struggle. I had no gay role models. The big difference is you know you're attracted to men—I was from a very early age—but you don't identify as gay, because that was represented in society in a way that was unrelatable to me. It wasn't until I got to college where you meet people who…it just seemed to make more sense.
"I was riddled with self-hatred and self-doubt, and a lack of any understanding of what my life would be like in the future. There were many, many days when you didn't want to wake up the next morning, but you can't even imagine those days now—they seem like another lifetime."
DeVincent is a veterinarian who met Gifford when he was finance director of the Democratic National Committee.
-Noel Brinkerhoff
To Learn More:
Gay U.S. Ambassador Opens Up about Marriage to Longtime Partner (by Helena Andrews-Dyer, Washington Post)
How Gay U.S. Ambassador Rufus Gifford Got Married, and Became a Social Media Star (by Tim Teeman, Daily Beast)
Ambassador to Denmark: Who Is Rufus Gifford? (by Matt Bewig, AllGov)